by Marcel Nanning
|
Last Updated:
December 14, 2022
With this MailerLite Review, we will help you make the right choice for 2023. Enjoy! Written by Jody and Marcel
Generating leads, increasing loyalty among your existing customers, and encouraging repeat purchases: e-mail is the tool of choice for this. Especially within the B2B market. The days of nonchalantly putting every recipient in the bcc and sending an impersonal e-mail to a bulk of addresses are long gone.
With the right e-mail software, you can personalize your e-mails, better match your message to the needs of your ideal customer, measure your efforts and get more out of your existing mailings. With major players in email software such as HubSpot, ActiveCampaign, and Mailchimp, there is something for every budget.
Curious as we are…
….we also like to look further and try out other e-mail tools. Today, we take a closer look at a 'not that new kid on the block': MailerLite. On this page, we explain what this email software is all about, its unique specifications, and whether it will become a threat to the tools currently leading the favorites lists.
Read our honest and unvarnished MailerLite review.
MailerLite is an email software tool that helps you take your email marketing to the next level. Its simple templates let you quickly create campaigns, manage subscribers and unsubscribes, create landing pages and pop-ups, and measure your efforts. MailerLite is seen by many users as an alternative to Mailchimp because of its low prices. In this article, you will find out whether it is a worthy alternative and lots more information you need to know about this relatively new e-mail program.
Functionalities of MailerLite
To give you a full and honest review, we dive straight into the software and create a trial account. You can do the same, via this link. After registering, you then get 30 days to fully explore the program and get a taste of all its features, without paying for it. But first read this MailerLite review, because we have already done the dirty research for you 😉. Saves you from aimlessly clicking through the software again.
Though with this interface, that's no punishment, because as soon as we dive into the trial account, we are pleasantly surprised!
The menu on the left side leaves something to the imagination and clearly explains where you find which functions. You'll find the tabs dashboard, campaigns, subscribers, forms, sites, automation, and below that, account-related tabs to standardize such as account settings, integrations, file manager, and my templates. That bodes well!
1. Dashboard
After signing up, you land on the dashboard, the epicenter of your account and here you will immediately find your to-do list. The 'signing up to MailerLite' checkmark is on green ✅!
Then, at this point, there are two more actions to perform: verify your e-mail address and complete your profile. The software takes you by the hand and taking a wrong turn is impossible, we love that! 💕
Once all the flags (or rather, the checkmarks) are green, it's time to navigate further through MailerLite.
Features & analytics
From your dashboard, you can set up the first steps. During your 'onboarding journey', you will be asked with what purpose you are using MailerLite and whether you already have subscribers. Based on those answers, your dashboard will be set up. So chances are our dashboard will look different from yours.
For example, if you have indicated that you want to use MailerLite to create forms, you will find a 'create form' tab in your dashboard.
Further down in the dashboard, you will find an overview of the performance of your efforts. Nothing is happening there now, if, like us, you recently created an account. Among other things, the dashboard shows the number of active subscribers and the performance of your emails and automation. It's a handy place where overview prevails and you never get lost among the zeros and ones again.
2. Campaigns
Under 'dashboards' you will find campaigns and, as the term suggests, this is where you create campaigns. These are one-off emails that you send to a certain group of people. If we can give a small point of attention, it is striking that the tool is only available in English. Fortunately, you can get by with this software even if you have poor English. And we suspect that if, like us, you work within online marketing, you can handle this, even if your from an English speaking country.
So, with campaigns you have the option to build nice e-mails to support your marketing funnel strategy.
When creating a new campaign, you can choose from the following types:
Regular campaign: you send a campaign to all selected subscribers.
A/B split campaign: you create two e-mail variations, and the software divides them among your subscribers that way you can see which e-mail performs best.
RSS campaign: automatically send an e-mail when new content is published on your website or blog.
Auto resend: subscribers who have not opened your e-mail (and have not unsubscribed) after a certain period will receive the e-mail in their inbox again.
A campaign in MailerLite example
Let's start at the beginning, so we create a 'regular campaign' in MailerLite. In it, you go through the following steps:
You give your campaign a name
You fill in a subject line that the recipient will see, you can automatically add emojis and personalizations
You enter the sender's name and e-mail address
You indicate how you want to measure the campaign, this can be done with track opens and UTM tags to see the performance back in Google Analytics
Finally, you choose the language: this automatically shows the recipient the unsubscribe page in the correct language: this is often forgotten and these details make it easy for the user
After you have passed the campaign settings with flying colors, it is time to channel your 'inner Picasso'. Time to give your creativity a crank and create your email campaign. You can choose from a drag-and-drop, rich-text or custom HTML editor.
The drag-and-drop editor
If you've worked with Mailchimp before, for example, you're no doubt familiar with drag-and-drop editors. In the left-hand menu, you will find all the blocks you drag into your email campaign, which you use to format the look of your email. As with other editors, you can edit, copy or delete per blog. An extra advantage compared to other editors is that you can indicate per block who gets to see the block. You can, by clicking on the eye, exclude all recipients, certain groups, based on criteria or people. So you create one mail with dynamic content, for different groups. Bet that when used correctly, the CTRs and conversions of your campaigns will shoot through the air!
The other editors
Besides drag-and-drop, you can also use the rich text and HTML editor. In the rich text editor, all distractions are removed, so you can focus on creating an e-mail using only text. And are you working with a designer who has already made a design – fully in line with your house style? Then you can use the HTML editor.
Before you launch your creative splurge into the world, you will of course want to test your mail first. You can do so by clicking on 'preview and test' at the top right and watching the mail in preview mode or sending yourself a test mail. Are you ready? Then choose 'done editing' and specify who can receive your mail.
Very handy to make sure you have enough subscribers… and that just happens to be the next tab in this program. 😉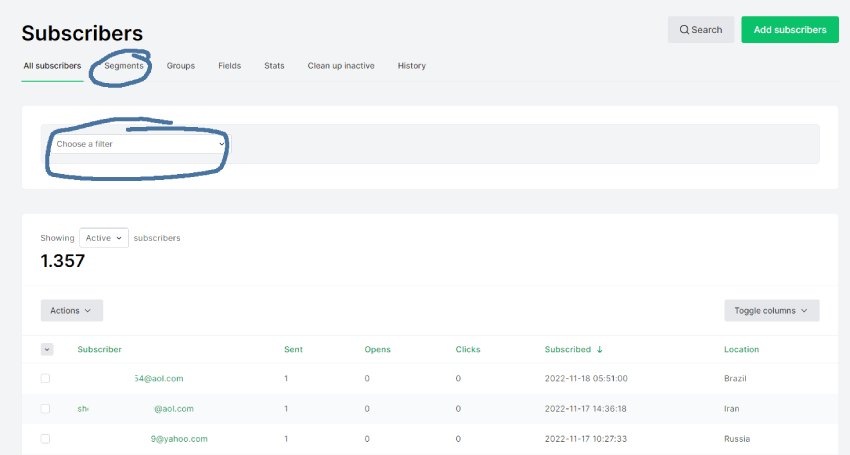 3. Subscribers
The first thing we noticed was MailerLite's fine interface. And the logical order in terms of structure is also nice. For instance, it is logical that 'subscribers' is under 'campaigns'. In the overview, you find the total list of subscribers (subscribers, mail recipients) and you can add new subscribers in various ways at the top right. By importing from a CSV or TXT document, by copying from excel, by adding a single subscriber, and… by importing subscribers from your Mailchimp account.
Bold move, MailerLite 😉
Because as far as we're concerned, they're thus putting a full attack on Mailchimp. When clicking through the profile for this Mailerlite review, we already saw some similarities with Mailchimp, and with this feature, they undoubtedly want to profile themselves as the alternative to Mailchimp. Whether that succeeded in our eyes you will read later, but we think this feature is a genius move to make it easier for users and remove barriers to switching from Mailchimp.
You can work with your subscribers on different ways. Segment, select and make different campaign groups. This gives you options to work on your best DMU-approach. It is not a full CRM with a full pack of CRM data but it will help you with your basic needs.
But to turn your online presence into a well-oiled lead machine, converting content canon or aesthetic email flow, you want to receive new subscribers in an automated and ongoing way. And you do that, among other things here comes the next bridge, with online forms.
4. Forms
To create a form, you first need to create a 'subscriber' group. You can compare it to an 'audience' in Mailchimp or a 'list' in ActiveCampaign. This list will contain the subscribers after completing your form. You can choose between pop-ups, embedded forms, and promotions. We will go through the different types of forms with you.
n many e-mail software you pay extra for a pop-up, but not with MailerLite. This is included by default in the basic subscription. You enter a library with more than 20 different templates to choose from. Customize the background, match the colors to your corporate identity and add different elements such as headings, buttons, and extra fields. And the coolest feature of all? You can add a countdown function!
Integrated into the editor
With many forms, you can add this in combination with other software, but with MailerLite it is thus integrated into the editor which you can really just compare to a drag-and-drop editor. We are seriously impressed by the extensive possibilities of the forms. Furthermore, you can add a privacy policy, checkboxes, reCAPTCHA, AVG-proof fields, and interest groups.
In the form settings, you specify whether there will be an automatic thank you message or redirect registrants to a specific, customized thank you page. After you have finalized the design, determine the triggers. You can display the pop-up based on the conditions time, scroll depth, and when leaving the website. Furthermore, you can specify the frequency and location of the pop-up on your website in the settings. With this email software, you can get rid of other tools to create pop-ups!
An 'embedded form' is literally an embedded form that you add to your blog or website. Here, you can choose a standard, horizontal, or 'card': the latter is a form with an image embedded in it. This form works the same as the pop-up layout. Satisfied with the form layout? Then you can place it on the website using an HTML script.
Finally, you can also add a 'promotion'. This is a pop-up form, especially for promotions, and can only be used in an 'advanced' subscription. This is similar to the standard pop-up, only you have a choice of additional templates and you can specify the period during which this pop-up is shown. Based on this feature, we think an 'advanced' subscription is superfluous, as you can also switch normal pop-ups on and off manually and miss the added value of 'promotion'. As you can also communicate a promotion or discount coupon with a normal pop-up.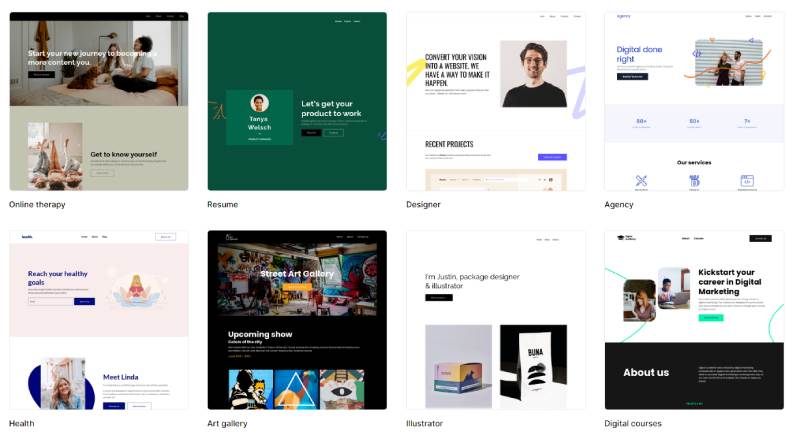 5. Sites
You might be thinking after reading the previous tab: embed a form? But I don't have a website at all yet! No problem, because with MailerLite this is made redundant. You can create SEO-proof landing pages here, just like in ActiveCampaign. But MailerLite goes even further, as it allows you to build an entire website!
Landing pages or sites with menu
With the user-friendly drag-and-drop editor, you can build a website with full navigation, fully SEO optimized, with interactive forms and quizzes, securing pages with passwords, and even measuring performance with heatmaps. You can do all this with a free subscription. To convert the URL to a custom domain (your own site), you do need a paid subscription.
6. Automation
Are the basics in place and ready to make MailerLite work for you? These days, it is unthinkable for email software not to have marketing automation functionalities.
Under the 'automation' tab, you create workflows, which execute tasks based on conditions and behavior. A workflow starts based on a trigger. The triggers you can choose are:
When a registrant enters a group
When a specific form is completed
When a subscriber sounds on a specific link
When a contact field is updated
By date (both one-off and recurring – for birthday campaigns)
From there, you can extend your workflow. You can add an email, a delay (waiting element), a condition (condition), or an action. These workflows are more or less a copy of ActiveCampaign but are explained in simpler terms. In addition, on the right-hand side of the automation, you can see the activity.
You can see how many subscribers are in the automation, how many have completed it, how many emails were sent in total, and the average open, click, unsubscribe and bounce rate. You can find specific reports per e-mail.
With a basic subscription, you can build simple workflows. Do you want more? Then you will have to upgrade to another subscription. This in combination with campaigns will help you set up campaigns for lead generation, customer marketing and Account Based Marketing.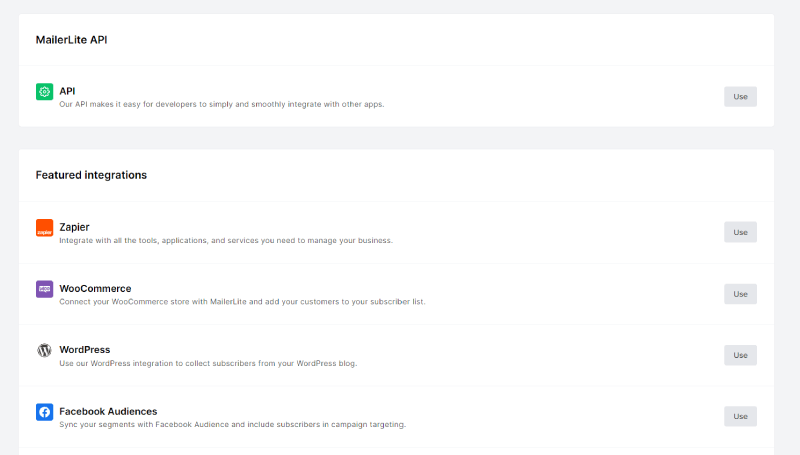 7. Other functionalities
Using the above functionalities, you have everything in one clear overview of what to expect from e-mail software. There are also a number of additional tabs, which need a little explanation:
Account settings: here you can adjust your account settings.
Integrations: if the current functionalities are not enough, you can also integrate with Woocommerce, WordPress, Facebook Audience, Mailercheck, and Stripe. Or add customized links via Zapier or the MailerLite API. Don't forget a link to your CRM software!
File manager: this is where you manage your images.
My templates: this is where you manage your templates, which you can easily drag and drop into any campaign or automation.
Extra feature! AI e-mail subject generator
In the fast-paced world of email marketing, crafting compelling subject lines that capture your audience's attention can be a daunting task. However, MailerLite has taken a giant leap forward in simplifying this process with its innovative AI-powered E-mail Subject Generator, leveraging ChatGPT technology.
Imagine having an AI assistant that understands your brand, your audience, and the content of your email. The MailerLite AI E-mail Subject Generator does just that. It analyzes your email's content and context, crafting subject lines that are not only relevant but also intriguing. Whether you're promoting a product, sharing news, or sending out a newsletter, this AI-powered tool can suggest subject lines that pique curiosity, drive engagement, and ultimately boost your email open rates.
Well done MailerLite! Or…..
Sounds all fantastic and innovative doesn't it? On the one hand, it is. On the other, it isn't. In fact, MailerLite is not the first to offer this option. It's almost a permission-to-play for email tool providers to offer this kind of AI capability.
Cost of MailerLite
As you may have noticed, we find it hard to hide our enthusiasm… from the very first use, we have been secretly sold on this program. Besides the fine interface and extensive features, we are perhaps most enthusiastic about the price/quality ratio. Because you get an awful lot of functionalities for naught.
1. Free subscription
The free subscription for up to 1,000 subscribers lets you send 12,000 emails a month, has email support Monday to Friday, and lets you use key features such as drag-and-drop editors, email automation builder, websites, a maximum of 10 landing pages, pop-ups, and embedded forms.
If you have more than 1,000 contacts, you have to pay a monthly fee.
2. Additional features
You also pay extra for linking an online shop, integrating Facebook, infinite use of templates, and customized landing pages, among other things.
As far as we are concerned, this is the starting point to try the benefits of MailerLite for yourself. Request your 30-day trial and discover the many possibilities for yourself.
Benefits of MailerLite
You have already read it between the lines of this MailerLite review, but we are raving about it and see a lot of advantages. We bundle them together here for you:
✓ Fine interface
✓ Clear onboarding
✓ Simple automation
✓ Intuitive email software
✓ 30-day free trial
✓ Good value for money
✓ Extensive design possibilities
✓ Easy to switch from Mailchimp
✓ Easy to create emails, pop-ups and automation
✓ You need minimal knowledge of email software
✓ Easily add dynamic content to every email
✓ A combination of the advantages of ActiveCampaign & Mailchimp in one account
Alternatives to MailerLite
Well, after this rave review, are there actually any worthy alternatives to MailerLite? Read possible alternatives.
MailChimp
MailChimp probably holds a few secrets for you. Every self-respecting marketer has used it to create an e-mail: the most basic version is free and offers links for websites as well as shops. Every family (unspoken) has a favorite. If we compare Mailchimp with MailerLite, we cannot hide the fact that MailerLite is the favorite: just a bit faster, more user-friendly and has more options. The only thing where MailChimp has a slight edge is that it is free to link for WooCommerce shops. But we are happy to pay for the benefits of MailerLite.
ActiveCampaign
We make no secret of the fact that we are big fans of ActiveCampaign. It brings Marketing Automation, e-mail marketing, and your CRM system together in one place and is priced friendly. If ActiveCampaign and MailChimp had a love baby and only the good features were passed on, MailerLite was guaranteed to be the final product. The technical knackers at MailerLite have cleverly copied from these two tools and adopted the best, at an extra attractive price. For SMEs, we may have to acknowledge that price/quality-wise ActiveCampaign has been knocked off the throne.
Read our ActiveCampaign review here
ConvertKit
Another tool to consider as an alternative is ConvertKit. This tool mainly targets creatives such as musicians, artists, and online course developers. Single-pitter or smaller businesses will appreciate this tool.
So, is MailerLite a valuable tool for the respected B2B marketer?
It will probably come as no surprise that we can wholeheartedly shout "yes!" to this. The small B2B marketer collecting leads through his website can use the huge toolbox for free. Medium-sized companies can expand and link their webshop for a low monthly fee. MailerLite is a great alternative to the existing guard and we expect this software to grow much further in the future.
About this MailerLite review:
This review was written by Jody Op den Buijsch and Marcel Nanning. In doing so, we have tried to give the best possible, unbiased view of this tool. Our reviews are based on our own experiences with tools and those of others and are written from an objective point of view. Affiliate links have been included in the article. If a purchase is made through this link, we may receive a commission on it. Of course, if there are inaccuracies in the article, we would like to hear about them.