by Marcel Nanning
|
Last Updated:
December 12, 2022
Note from editor: some pages of the Funnel CRM website do not function. The last content update is 2029. We actually have no clue if this tool is still operational in 2023.
The CRM software market is still evolving in all directions. A recently published Gartner study shows that the market is growing at more than 15% per year and represents a market worth more than €40 billion. In 2019, more than 75% of CRM solutions consist of cloud solutions. It is not surprising that the market has new entrants who are trying to distinguish themselves. An example of this is Funnel CRM; a colorful user-friendly tool for SMEs and freelancers.
Note: the FunnelCRM website is down from time to time, inquiry shows that they are working on it. It is therefore possible that certain links do not work temporarily.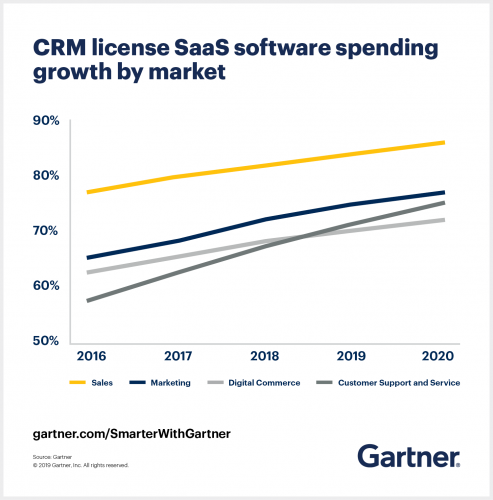 A childlike appearance for a serious CRM solution
Funnel CRM looks childish and plays, but it is indeed a serious alternative to CRM tools such as Salesflair, Pipedrive or Hubspot CRM. With features like:
Lead capture forms
Automatic profile creation from forms
Send emails from the CRM database from available email templates
Capture quotes
Capture notes, interactions, and attachments
assign tags
It is a basic CRM tool, designed for new business based on forms on websites. In that respect, the name is appropriate for the product: the sales funnel is central.
Deals
In the deal section you can automatically collect data from the forms or manually enter leads. Here you log the sales opportunities.
In the relationship card, all information about the lead is shown, such as the interactions and the deal value. E-mails can also be sent from the relationship card based on standard templates such as a proposal for an introductory meeting or an offer. These are also logged under the relation card.
Tags
With Funnel CRM you can use tagging. Tags are useful for linking projects and relationships. In the long run, functions will also be added to this, according to Gohar Shafique, co-founder of Funnel CRM, such as notifications and triggers.
Pretty basic stuff, but in the case of Funnel CRM very intuitive and easy to use.
Funnel CRM is certainly not an alternative to Microsoft CRM or SalesForce (or other SME+ tools!)
Tools such as Funnel CRM are set up as easy-to-use tools that you can start using directly from a SAAS model, preferably on your phone. With an entry price of 10,- per user per month, this is a type of CRM system that focuses on freelancers and SMEs. It almost feels like a free CRM!
Funnel CRM is a fast-growing tool that shows great promise and a very fresh look.
If they continue to update the tool and supplement it with new functionality, this could become a very interesting player in the world of CRM software.
But it does not yet resemble the mature tools such as Microsoft CRM or SalesForce that target SMEs and enterprise companies with their standard product. With this, Funnel CRM is clearly opting for the volume market to conquer the market and who knows, eventually, move on to the larger SME companies. And if I think so, they have a good chance of competing against tools like Pipedrive.
More about marketing funnels? Check out our marketing funnel guide!
Looking for similar tools like Funnel CRM? Then also view these CRM systems.