by Marcel Nanning
|
Last Updated:
January 12, 2022
HubSpot. You can't get around it when you're in the marketing profession. It is one of the market leaders in b2b marketing automation software (Gartner/HubSpot). The mission since its foundation in 2006: to help companies grow with eye for the customer. But what does this platform have to offer, what price tag does it have, and for which organizations is it an interesting option? Today I'm sharing my HubSpot review with you.
What is HubSpot?
HubSpot is a popular platform with CRM software, marketing (automation), sales and service functionalities. With HubSpot you use the inbound method to attract visitors to your website, convert leads and close deals. The platform offers all the tools to make marketing, sales and service work well together. This allows activities of different departments to be seamlessly coordinated. In addition, this makes it possible to follow up on leads throughout the entire customer process.
The company was founded in the United States by Brian Halligan and Dharmesh Shah in 2006. Today, with more than 3,300 employees and a public listing on the NYSE, it has grown to become one of the largest players in the world of Marketing Automation, Email Marketing and CRM . The organization is seen as one of the founders of the Inbound Marketing phenomenon.
HubSpot and inbound marketing
We just mentioned it: inbound marketing. This term and associated method, which focuses on 'first give, then take', was introduced by HubSpot. When you use the inbound marketing principle, you as an organization first offer value. You do this through content, such as blogs, e-books, white papers and videos. With this content you generate leads and warm up interested parties. Only when the leads are warm enough can the sales team get started (lead nurturing). The inbound marketing method has now become an indispensable part of the marketing world. HubSpot offers a software platform to support Inbound Marketing that offers various functionalities for this.
HubSpot hubs and functionalities
HubSpot has a modular structure. As an organization you can therefore opt for the complete package or (a combination of) specific modules. The platform consists of five different modules, which are called 'hubs':
HubSpot Marketing hub
HubSpot Sales hub (CRM)
HubSpot Service hub
HubSpot Operations hub
HubSpot CMS hub
All modules can be reached via the same platform. This has the advantage that you do not always have to switch between different tools. In addition, the different hubs communicate with each other. Because the data is exchanged, you are assured that data is always up-to-date. Even if multiple departments work in the tool.
But what exactly can you do with those modules? We take a closer look at the hubs and discuss the most important functionalities with you.
1. HubSpot Marketing Hub
The HubSpot Marketing hub is the module with which HubSpot has gained fame. With this hub you have everything you need to manage and improve your marketing activities in one central place. We discuss the functionalities per theme: content, automation, promotion, and reporting.
Content
When you say inbound marketing, you say content marketing. That is why you will find all kinds of functionalities in the HubSpot Marketing hub to create, optimize and publish content assets. You create blogs with HubSpot's composer. This gives you all the options you are used to from a CMS: writing and formatting the text, but also inserting images and videos. You can easily insert links and a call-to-action button in your own house style is also made in no time.
If you have the Professional variant of the HubSpot Marketing hub, you will also receive recommendations for search engine optimization. This is similar to the SEO recommendations we know from Yoast. This includes things such as the number of words, uniqueness of title and meta description and mobile-friendliness.
In addition to creating blogs and landing pages, HubSpot helps make the feedback process more efficient. There is nothing more annoying than sending Word documents back and forth. That is a thing of the past with the HubSpot Marketing hub. You can ask or give feedback via the tool itself by adding a comment to the blog or landing page. In the preview mode, you can see how the page will look like on different devices. Although every page is automatically optimized for mobile devices. Are you satisfied with the content and layout of your blog? Then you can publish it directly or schedule it.
HubSpot thus offers an alternative to other CMS systems. In practice, it is typically used alongside the corporate website with form integrations. The HubSpot CMS is used for landing pages.
Curious already? Click here to try HubSpot for free.
Automation
Automation (marketing automation) is also part of the HubSpot Marketing hub. You first create a landing page for your e-book, whitepaper or other lead-generating tool. The HubSpot landing page builder is very intuitive. It is a drag-and-drop system with countless possibilities, including personalization and dynamic content.
A landing page should have a form. You also use a drag-and-drop system for this: the HubSpot form builder. You create the form with text fields, dropdowns, multiple choice, date fields or other fields. And do you have The HubSpot Marketing Professional or Enterprise hub? Then you also have access to the function to create smart forms: forms that adapt to the visitor. Once completed, you determine where in the HubSpot CRM the contacts will end up.
Once a visitor is a lead, the visitor can end up in an automation. With HubSpot workflows you automate email campaigns. With workflows you can really go in all directions. You can choose from dozens of triggers, conditions and actions. This allows you to send emails to the right people at the right time. You compose those emails with the HubSpot email marketing tool. This is – you can feel it coming – a drag-and-drop system.
You will find everything you can expect from an extensive email tool, such as the possibility to save your own templates, personalization and A/B testing. Data is also automatically linked to the correct contacts. So you never have to request contact information from the IT department again.
Promotion
With the HubSpot Marketing hub you can set up social posts for Facebook, Instagram, Twitter and LinkedIn. You can easily add links, images or videos. Publish the message immediately or schedule it.
You will also find an advertising section in the HubSpot Marketing hub. This allows you to manage ads on Facebook, LinkedIn and Google. You can even use data from HubSpot CRM when setting up (lookalike) target groups and retargeting campaigns. The platform also gives you insight into which ads generated which leads. Of course, the lead information is automatically placed in the HubSpot CRM and you can let leads roll into a workflow.
Reporting
The HubSpot Marketing hub is also good for marketing statistics. The reporting tool combines all available data from content, campaigns and visitors. Think of insight into traffic sources and results of specific resources or campaigns. You decide how your dashboard looks like. You simply drag the desired elements into your dashboard.
"We believe businesses can grow with a conscience, and succeed with a soul."

– Hubspot Missie
Click here to try HubSpot CRM or HubSpot for Marketing for free.
2. HubSpot Sales hub / HubSpot CRM
Where marketing stops, sales continue. The HubSpot Sales hub is a good addition to the HubSpot Marketing hub. This Customer Relationship Management system facilitates the sales team. We discuss three themes: conversation, management and pipeline.
Conversation
With the HubSpot Sales hub (HubSpot CRM) you can easily compose sales emails. You create mail templates from the best performers, which you can share with your team. You can track all emails you send: you will receive a notification when a lead or customer opens your email. As you would expect in a CRM, the HubSpot Sales hub also allows you to take notes on contacts. As a sales manager or team lead, you can unleash conversational intelligence on the calls of sales employees. This allows you to gain surprising insights into customer needs and the performance of the team. Prefer to chat? You also have that option with the HubSpot Sales Hub. The chat function can be used as a live variant or with a chatbot.
Management
In the HubSpot Sales hub you will find various functionalities that can streamline the sales process. For example, (potential) customers can easily make an appointment in your agenda with the meeting planner. Once in contact, you can compose a series of personalized emails with the sales automation function. You (and the team) will find documents from your Gmail or Outlook mailbox in the organized library in no time.
Pipeline
Forgotten quotes are a thing of the past thanks to the quote management function. This gives you insight into all tasks related to quotations. Pipeline management is a nice addition to this. This provides insight into the status of quotations. The insights also give you information about the health of your pipeline.
3. HubSpot Service hub
The HubSpot Service hub gives you the functionalities you need to serve leads and customers. With the option to set up a knowledge base, you can answer questions in an efficient way. Question not answered? Then the helpdesk, ticket system or live chat can be used. You can even set up workflows for support with a personal touch, for example by using 1:1 video messages. Thanks to the shared inbox, the entire team has insight into incoming questions. At least, if desired. You control who has access to what in the team management function. Of course you also want to know what customers think of your product or service. You use feedback surveys for this.
4. HubSpot CMS hub
The HubSpot Service hub gives you the functionalities you need to serve leads and customers. With the option to set up a knowledge base, you can answer questions in an efficient way. Question not answered? Then the helpdesk, ticket system or live chat can be used. You can even set up workflows for support with a personal touch, for example by using 1:1 video messages. Thanks to the shared inbox, the entire team has insight into incoming questions. At least, if desired. You control who has access to what in the team management function. Of course you also want to know what customers think of your product or service. You use feedback surveys for this.
5. HubSpot CMS hub
The HubSpot CMS hub is the basis for developing and improving your website. You can do that from scratch, but you can also use the website themes. With the editor – the drag & drop system – you can easily adjust pages. The SEO recommendations help you implement the basics of search engine optimization. The great thing about the HubSpot CMS is that it integrates seamlessly with the HubSpot CRM. This has the advantage that you can track visitors and easily create personal experiences with dynamic content. Curious which elements ensure the best experience? You test that with HubSpot's adaptive testing function. Furthermore, the HubSpot CMS has a lot of what you can expect. You can create multilingual content, for example. And for developers and IT teams, it's good to know that things like local development and manual CDN configuration are possible. You monitor safety with the appropriate tool.
6. HubSpot Operations hub (new)
The HubSpot Operations hub is the latest module. This hub facilitates efficient processes. With this hub you can synchronize data based on rules and filters. An example is the 'mapping' of contact fields. The automations also offer you all kinds of options to deal with data efficiently. Think of cleaning data, automatically emailing contacts about renewing a subscription or trigger a task in another tool such as Asana, Slack or Zoom.
Klik hier en probeer HubSpot gratis
Integrate systems with the HubSpot App marketplace
While HubSpot offers extensive capabilities, chances are it won't cover everything. Maybe your organization uses Pipedrive, for example. To integrate HubSpot into your digital ecosystem, there is the HubSpot App Marketplace. Here you will find links to numerous systems. Some popular connections are:
Gmail
Canva
Google Calendar
WordPress
Google Ads
Zoom
Salesforce
Calendly
Gravity Forms
PandaDoc
etc.
HubSpot Connect works very simply. As a test case I imported my contacts from marketing automation tool Mailerlite. For this I only had to go through a few steps – even with just the free CRM version. With the API key it was done in no time. The data was transferred correctly. The only drawback is that custom fields are not possible without the Operations hub. With only the CMS you are therefore bound to the basic fields (name, mail, tel. no. etc).
Support
As a software company that seriously participates at the top, you cannot ignore a strong service device. HubSpot provides assistance to users of the software in a number of ways.
Partner – HubSpot works with a partner channel. This means that you can use implementation partners to set up the system as best as possible for your organization. You do not always have to work through a partner.
Community – There is a vibrant community of HubSpot software users. The company also regularly organizes webinars and meetings for inspiration. An annual event is Inbound, a major marketing event in Boston that resembles a festival. I have been there myself once and was impressed by the quality that was presented. World-famous actors, entrepreneurs and marketing experts tell their stories there. View my report of Inbound here.
Knowledge base – You can access an extensive knowledge base with articles on software implementation, configuration and campaign setup.
Education – HubSpot's Academy helps you get more out of the software.
Blog – HubSpot is a true content machine and has sharp insights and handy how-to blog posts on many marketing-related topics
Personal contact – Contact via e-mail, chat or telephone: depending on your subscription, it is possible to contact us directly.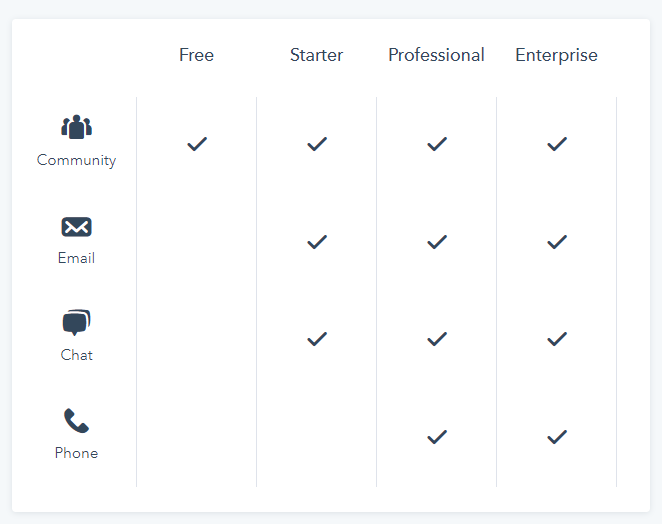 You will agree that HubSpot can be called a comprehensive platform. But what are the costs?
HubSpot Cost
HubSpot has three different paid licenses: Starter, Professional and Enterprise. The features of these licenses are in the available functions of the hubs. The number of people is also characteristic.
You can choose which license you want per hub. Combining – for example Marketing Starter and Service Professional – is therefore also possible. Below you will find the starting rates per hub and license.
In addition to the CRM package with all hubs, you can also put together a bundle yourself. You will then receive a package discount. There is also a free variant with limited options of the Marketing hub, Sales hub, Service hub and Operations hub.
| | | | |
| --- | --- | --- | --- |
| | Starter | Professional | Enterprise |
| Marketing Hub | €45,- p/m for 1000 cp | €800,- p/m with 2000 cp | €3200 p/m with 10.000 cp |
| Sales Hub | €45,- p/m for 2 users | €450,- p/m with 5 users | €1200,- p/m with 10 users |
| Service Hub | €45,- p/m for 2 users | €360,- p/m with 5 users | €1200,- p/m with 10 users |
| CMS hub | – | €280,- p/m | €830,- p/m |
| Operations Hub | €45,- p/m | €720,- p/m | – |
| CRM-packc (all hubs) | €41,- p/m | €1474,- p/m | €3680 p/m |
De voor- en nadelen van HubSpot op een rij:
+ Highly developed marketing platform
+ Intuitive interface
+ Modular construction
+ Extensive onboarding and service
– Sales, Service, Operations and CMS less suitable as stand-alone variant
– Few options for customization
– Pricey when scaling up
(source pro's and cons HubSpot: Gartner)
Conclusion: why (not) choose HubSpot?
HubSpot is a comprehensive platform. Thanks to the modular structure, you can choose what your organization needs. Each hub (or module) offers numerous functionalities. The idea that better cooperation between marketing and sales leads to more success is well supported. Still, the Marketing hub – where it all started – remains the best. That is why it is basically the most suitable as a marketing platform and I find the other hubs less suitable as a stand-alone variant.
Costs weigh heavily
What we cannot ignore is that there is a price tag attached to the software. That's no problem if a company uses all the possibilities of HubSpot and uses the tools effectively. In practice, it appears that not all companies can achieve this. A lack of resources can hinder HubSpot's ROI. To get the most out of HubSpot, you need a significant marketing team. An adequate marketing budget is also a basis for success. This makes HubSpot very suitable for medium to large companies that can get started with the tooling committed.
Heavy artillery
HubSpot is not suitable for companies with limited resources. Do you have a small business and still want to use HubSpot? Then consider seeking out an external marketing partner who uses HubSpot. It may be a bigger investment, but you can then piggyback on the platform, the knowledge and experience.
Click here to try HubSpot for free.
Alternative to HubSpot
HubSpot is not alone in the world of Marketing Automation and CRM. There are several solutions that, depending on the type of organization, are being considered as an alternative to HubSpot. If you're looking for an alternative to Hubspot as a Marketing Automation solution, these tools are worth exploring. We highlight two for this Hubspot review: ActiveCampaign and Marketo.
ActiveCampaign
A popular Marketing Automation solution for small and medium businesses is ActiveCampaign. This solution provides Marketing Automation, Email Marketing and CRM from one system. This makes it an interesting alternative to HubSpot on many fronts.
I have worked with it myself and was particularly pleased with the visual representation of automations and the powerful CRM solution that is integrated. If I compare it with HubSpot, HubSpot is more versatile, especially for SMEs and large organizations. However, that's what the price tag is for. However, for smaller and medium-sized organizations, ActiveCampaign is a great alternative to Hubspot.
Marketo
If you're looking for a marketing automation solution that supports larger organizations, Marketo is a great alternative to HubSpot. This powerhouse ranks high when it comes to functionality, stability, integrations, and other features important to enterprise organizations.
I've also worked with Marketo and was impressed with the underlying architecture. If you know what you're doing, it works well. A clever thing about Marketo is that they work a lot with 'tokens'. These are kind of values ​​you can use in merge fields. An example; if you set up an invitation process for a webinar or event, you only have to enter the details of the event once.
Think of; date, time, place and event title. This information is then loaded into all e-mails where you want it. If the date of the event or the start time changes, you can adjust this in 1 place and it will be immediately implemented in all expressions.
I think a downside of Marketo is the lack of a visual flow builder that clearly shows how campaign expressions follow each other. The software also quickly requires specific technical knowledge.
💡Check out our HubSpot CRM review here!
Frequently Asked Questions
What exactly is HubSpot?
HubSpot is an inbound marketing based CRM platform with functionalities for marketing, sales and service.
How much does HubSpot cost?
The costs for HubSpot start at $0.00 and go up to thousands of euros per month.
Why HubSpot?
Data in different phases of the buyer journey, you can respond with the right activities at the right time.