by Admin
|
Last Updated:
February 4, 2022
A DMU is a group of people who are part of the decision-making process around certain purchases. DMU stands for Decision Making Unit and is often mentioned as a factor to consider in b2b purchasing processes. However, purchase decisions also take place in the private sphere in a DMU. A family, for example, is also a DMU within which different members influence a purchase.
Within a DMU one knows a number of types of influence areas; users, buyers, decision-makers and other people who influence the buying process. An average Business-to-business purchasing decision has 6.8 stakeholders.
We see the following roles in a DMU:
Initiator: takes the initiative for decision making process leading to purchase
Influencer: assists in formulating the technical specifications or provides information useful in evaluating the available alternatives
Advisor: increases number of alternatives to be considered
Gatekeeper: contact person who controls flow of supplier information
Decision maker: determines which supplier to contract with
Purchaser: has formal authority to select and negotiate with a supplier
User: the person who will use the purchased product
Tools for responding to the DMU
An example of some CRM systems that are also regularly used in the Netherlands and Belgium.
👇
There are several tools to simplify mapping and responding to the DMU. A very important one for b2b organizations is LinkedIn. This social media platform has developed into one of the largest business networking platforms in the world. LinkedIn is also developing more and more functionality to gain more insight into target groups and to get in touch with them. This includes mapping out a DMU and responding to it with content.
CRM software for a 360 view of the DMU
One way to get a better grip on the DMU and organize interactions with target groups in the right way is good CRM software. For many organizations, the CRM system forms the basis for all marketing and sales activities. Most systems provide for the capture of company data, contact person data, interaction moments such as emails, landing page visits, phone calls, or quote requests. Some packages also go further and pull information from various sources into the system to get a more complete picture of DMU members. For example, consider news articles that have been published around the company.
Business recognition software
Another type of tooling that is useful for getting a better grip on the DMU in business-to-business environments is lead identification software. These are tools that make it possible to find out which companies and in certain cases which contacts have visited the website. Not only can CRM databases be supplemented with this and interesting analyses be done, but often these tools also offer possibilities for nurturing leads.
Different buying situations within a DMU
Then we distinguish three different buying situations within DMU, referred to as a new task, modified rebuy, and straight rebuy.
New task/New Buy: no experience with this problem. This situation happens when the organization has to purchase a certain type of product or sign a contract for a service for the first time.
Modified rebuy: there is a modified rebuy here. An organization has previously purchased a particular product, but wants to re-buy for the next purchase.
Straight rebuy: repeat purchase, an organization has so much experience with the particular purchase that it does not need additional information or to look at new alternatives. Thus, a company's needs and requirements are unchanged here, and the order will be placed with the current supplier.
Source: 'Foundations of Marketing' Prof. Drs. B. Verhage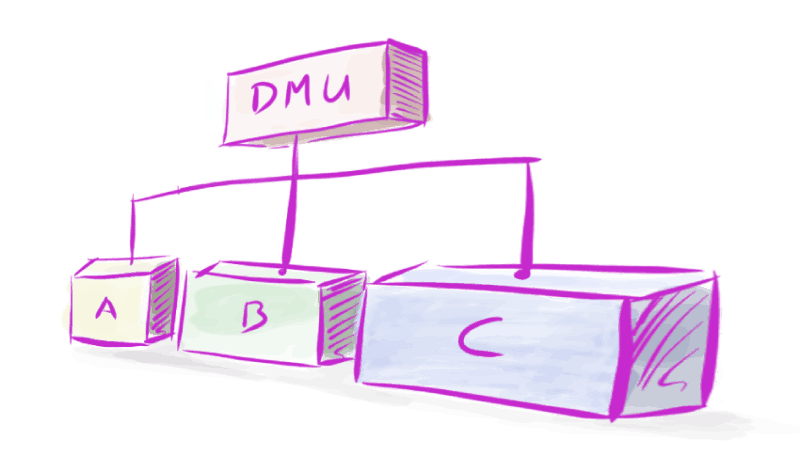 DMU roles change
A DMU is not a static entity. Roles of DMU members can change. For example, due to a changing composition because of a departing employee within a company. That is why many companies focus on keeping their database (such as CRM) up-to-date so that they have the right DMU members in the picture on an ongoing basis. There are also other ways to map the DMU.
How do you map out the DMU?
Personal contact
One way to map the DMU is to be in constant contact with the market (by phone, through personal sales) and in this way enrich the data in the CRM system.
Data suppliers
There are also data suppliers who can help you provide data for your DMU. Think of data suppliers like Graydon, Chamber of Commerce or Smart Profile.
Website Visitor Tracking Software
An emerging way to get a handle on a DMU is through the use of lead identification software or website visitor tracking software and tools like Online Success, SalesFeed or Leadfeeder. These tools combine data and provide direct insight into visitor profiles of website visitors. For example, by linking IP information to a database (such as the kvk database) and the website visit, direct DMU information can be provided and enriched. It is also possible to respond to the DMU in real time and contact them.
Responding to the DMU with Account Based Marketing
A term we see more often in Business-to-Business Marketing is Account Based Marketing. This means that a unique marketing campaign is set up on a mini-segment or a single company. One also speaks of hyper-targeting.
Within this type of campaign, a lot of attention is paid to working with the DMU. By adapting the message to the members within the DMU it is more appropriate. This makes the message more relevant and increases the chance of impact. It is therefore an efficient way of reaching target groups in the right way. This form of marketing is often applied to larger accounts or accounts with a higher order value. It can also mean a lot for accounts with a larger, more complex DMU structure.