by Marcel Nanning
|
Last Updated:
June 23, 2023
When successful marketing automation giant Hubspot launched free CRM, a shockwave went through CRM-land. The establishment reacted laconically: "it will be fine. Good luck conquering a position in this saturated market!" They did come back to that! With an aggressive go-to-market strategy, HubSpot has rapidly gained a solid position in the CRM landscape (it takes them a lot of effort, but market share is growing as shown in this Forbes research). Time for a comprehensive HubSpot CRM review!
In this review, we will tell you more about HubSpot CRM: the cloud-based CRM platform that allows you to map and follow up on leads to grow your organization.
Let's dive into our HubSpot CRM review quickly!
What is HubSpot?
HubSpot is a multi-product software platform for inbound marketing, sales and customer service. These tools work optimally together, so you only need one platform for all your communication and marketing. HubSpot works with different 'hubs': the marketing, sales, service, CMS and operations hub. From tracking new leads to handling customer queries: it works with HubSpot. In addition, HubSpot now also offers a free CRM system. The organization is considered one of the founding fathers of the 'Inbound Marketing' phenomenon.
What is HubSpot CRM?
HubSpot CRM is their Customer Relation Management System. It is a central database where, as a business, you can store, manage and track all your customer-related information – and it integrates perfectly with the 'hubs' within HubSpot. With the aim of improving sales and marketing efforts and communicating more effectively with customers. On this page, we test HubSpot CRM ourselves and give an honest review on how to use it.
Click and try HubSpot CRM for free
The functionalities of HubSpot CRM
HubSpot is a hugely comprehensive tool with many different functionalities and hubs, which sometimes makes it a bit confusing. If you get started with one of the 'hubs', depending on the hub and the functionalities, you pay a minimum of EUR 18 per month, per hub. In addition, HubSpot has published a number of free tools for each hub, including HubSpot CRM under the sales hub. I will walk you through – after creating a trial account – the functionalities of HubSpot CRM.
HubSpot CRM's free functionalities
HubSpot CRM has the following free tools:
Contact management
Deal pipeline
Quotes
Meeting scheduling
Marketing functions
When you sign up for the free tools via this link, you will see that not only is HubSpot CRM free, but other features are also included. This blog specifically highlights the CRM tools, but you can do even more with this free version of HubSpot.
Once you log in to the free HubSpot, you will see the different tabs at the top: contacts, conversations, marketing, sales, service, automation and reports. You can then combine your data from the HubSpot CRM with other parts of the free tool, such as the CMS and marketing tools.
1. Contact management
Under 'contact' you can store all your contacts – it is the beating heart of your CRM system. You can add contacts in various ways: manually add a loose contact, import from a file on your computer, sync data from other hubs or collect contacts from your marketing forms. The latter is a typical example of the various hubs working together seamlessly in this way.
Besides the standard fields (email address, name, and company), you can also add additional fields to better target your lead and track contact data such as the source of origin on your website, deal status and you can see their historical purchases on your site.
2. Deal pipeline
From sole traders to SMEs: your organisation's sales process requires insight and overview. A lead that has made a download on your website, an online meeting that has been scheduled and a quotation waiting for approval: you want to follow up on all these sales-related actions on time and at the right moment. For this, structure and streamlining is important.
The advantage of HubSpot CRM is that you have a fine and well-organised deal pipeline. Whereas with other CRM systems you often need the paid version to create pipelines, in HubSpot CRM you can do this for free. In your dashboard, go to 'sales' in the main navigation and then to 'deals'.
Here you can add a new deal by clicking on 'create deal' in the top right. Then go through the following steps:
You enter the name: for example, the name of the company combined with the type of product they are interested in.
You choose the type of pipeline: in the free version, you can only choose the 'sales pipeline'.
Then you fill in the 'deal stage', you can choose from the following options:
– Appointment scheduled
– Qualified to buy
– Presentation scheduled
– Decision Maker Bought-In
– Contract Sent
– Closed Won
– Closed Lost
After these mandatory fields, you can fill in some optional fields: quantity, date, deal owner, whether it is a new or existing customer, the priority, contact person and organisation.
You save the deal and find it in your overview. Do this with all open deals and you have a clear overview of all your sales tasks.
3. Quotes
A separate programme for your administration, quotations and CRM system? No need! In HubSpot CRM you can also create a quotation directly. Without you having to pull complicated design skills to do so.
Before creating a quotation, you must first have created a 'deal'. You then create an automatic quote in 7 steps. You select deal, fill in details of the contact person, add your own products and product info, indicate whether the digital should be signed and the payment method. After following these steps, a quote rolls out ready to send directly to the customer. You can share a link directly with your lead or format the email directly in HubSpot. This way, you keep your entire sales process in this CRM.
Click and try HubSpot CRM for free
4. Meeting Scheduling
Soms gaan er tientallen e-mails heen en weer naar leads en klanten – om een afspraak in te plannen. Eerst om een beschikbare datum in te plannen, waarbij de agenda's altijd maar net overeenkomen. Om er vervolgens achter te komen dat de afspraak al twee keer is ingepland. Bespaar jezelf grijze haren (en tijd) en laat je leads en klanten een afspraak inplannen via HubSpot CRM.
Ga onder het tabblad 'sales' naar 'meetings' en kies 'Aan de slag'. Koppel het direct aan je agenda (Google of Microsoft) zodat alle afspraken gesynchroniseerd worden en je nooit meer dubbele afspraken plant. Je kunt de deelbare link in de agenda kopiëren en direct naar je leads of klanten sturen. Of je maakt een nieuwe agenda, waarin je alleen bepaalde tijdslots open gooit. Afspraken plannen was nog nooit zo makkelijk!
5. Live chat
Do you sell consumer products and want to speak to leads or customers quickly via social media? Then you can easily create an automatic chat flow. To do this, go to 'conversations' and then 'chat flow'.
You can add the chat to your own website or to Facebook Messenger. You log in – for example to your Facebook account – and choose the page on which you want to place the chat. You add a welcome message and can send a standard message when someone starts the chat. That way, you manage expectations when they get a response from you and take the pressure off customer service. You can then manage the chat in HubSpot and add the contacts back to your CRM. With this, you manage leads from different channels in one place.
Hubspot was already working on conversational marketing in 2016. At Inbound 2016 in Boston, HubSpot already presented a roadmap in which AI chatbots would play a big role.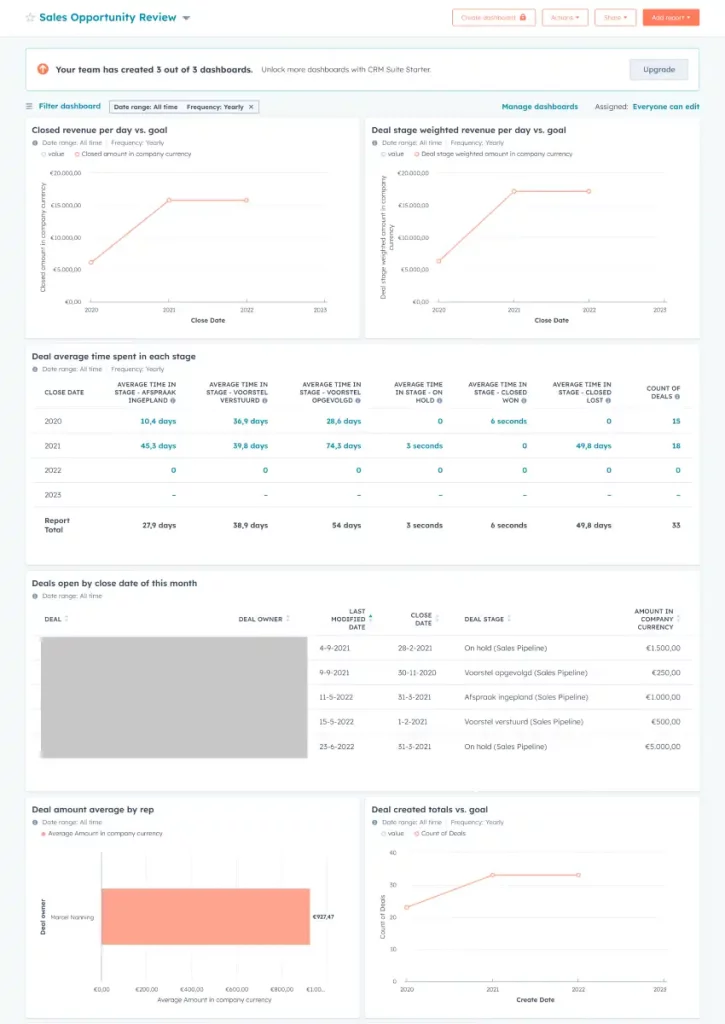 6. Reporting dashboard
Want to see what inquiries are coming in via chats? What the quality of your leads is or get full insight into sales pipeline results? HubSpot CRM has 25 standard dashboards that give you instant insight into the requested information. To do this, go to the system's homepage or get to this overview via 'reports'.
All you have to do is click on a dashboard, indicate which KPIs you want to include in the report and the dashboard is created for you. This gives you real-time information that helps you gain more insight into your business and optimize it further.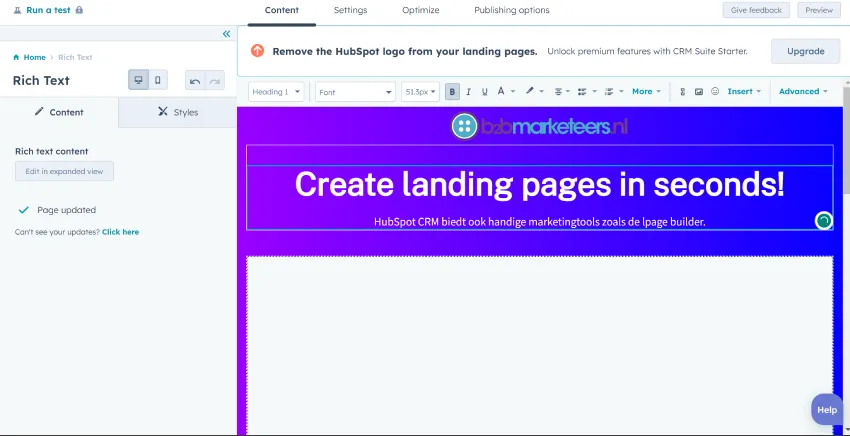 7. Marketing options
We also touched on it in our HubSpot review: the company would be crazy not to exploit its existing position in marketing land. That means that useful marketing features have also been added to CRM. Even with the free version, for example, you can use a landing page and website page builder. You choose from an existing template and have a page up and running within minutes. This is very handy for example:
setting up a newsletter subscription page
offering a sign-up page for events
offering a lead magnet (e-book download)
We set up this example in literally 7 minutes: check out a landing page created with HubSpot CRM here.
In the paid version of HubSpot CRM, you have more features – we briefly touch on them below.
My personal experience with HubSpot CRM
As a freelancer, I use the free version of HubSpot CRM mainly for storing company data and contacts.
When you enter a company, HubSpot automatically pulls in additional data based on the company's URL. This is quite handy and saves me time on data entry.
Besides, I am quite satisfied with the deal section. This is where I create sales opportunities and track them over time. So it is a handy tool to see how much turnover is still in the pipeline and not to forget the follow-up of leads!
Click and try HubSpot CRM for free
HubSpot CRM costs
Whereas HubSpot previously only offered paid software, they have made strides with their free CRM. For companies that want to start lead generation in an approachable way, the free plan offers everything they need. Hereby, we list the costs of the other plans and their functionalities:
Free Plan: $0 per month
This includes:
Contact management
Deal pipeline
Quotes
Meeting scheduling
Live chat
Dashboard reporting
Starter Plan $45 per month
Everything in the free plan, plus:
Simple automation
Goals
Call routing
Multiple currencies
Performance for representative productivity
Professional plan: $450 per month
Everything in the starter plan, plus:
Automation of deal stages, tasks and lead rotation
Sequences
Teams
Customised reporting
Telephone support
Enterprise plan $1,200/month
Everything in the professional plan, plus:
Custom objects
Predictive lead scoring
Playbooks
Forecasting
Recurring revenue tracking
Want to get started with HubSpot CRM yourself? Check out the plans and request your demo.
The pros and cons of HubSpot CRM at a glance
+ Real-time lead behaviour is insightful
+ Different 'hubs' are combined with each other
+ The basis of the CRM system is free, making it an excellent entry-level tool to start lead generation
– For small companies, a higher plan is immediately very expensive
– Automations are not included in the free plan
– You can only enter one e-mail address per contact
Conclusion: why should you (not) choose HubSpot CRM?
Want to streamline your sales process and look for an approachable way to automate your work and combine it with other tools, in one program? HubSpot CRM has all the basic components you would expect from a CRM system. The pipeline is extensive and the various templates save time. If you need just a bit more functionality, because you want to set targets or set up simple automation, for example – then you will pay a decent monthly fee for this, proportionally. Prices then start from USD 45 per month: for small companies that want to go beyond the basics, it is better to switch to an alternative e-mail / CRM system.
Click and try HubSpot CRM for free
HubSpot CRM alternative for SMEs and larger businesses
If you start comparing HubSpot CRM with other CRM providers, you quickly end up with companies like Microsoft (Dynamics CRM) or SalesForce. Also look at packages like Archie CRM, SuperOffice or Monday CRM when considering HubSpot. These are players that are excellent for mid-market SME organisations.
Read our Monday CRM review here
Read our SalesFoce review here
Alternative to HubSpot CRM with automations
Want just a little more than the basics of HubSpot CRM, but don't want to pay the monthly fees associated with it? Then there are a number of alternatives to HubSpot CRM that also allow you to set up automations:
ActiveCampaign
ActiveCampaign offers more automation and CRM functionality than the average email marketing tool. It is impressive to see how this tool manages to offer a comprehensive, user-friendly tool that is suitable for both small and large organizations.
Read our review of ActiveCampaign.
Mailerlite
Similar to ActiveCampaign, but basically free! Want to set up simple automation, send emails and collect leads via forms? Mailerlite is your alternative to HubSpot CRM.
Read our review of Mailerlite.
Read more about CRM here or go directly to our CRM systems comparator.
Click and try HubSpot CRM for free