by Marcel Nanning
|
Last Updated:
October 13, 2023
Leads that are not followed up on. Opportunities on your website that remain unused. Existing customers who do not get the attention they deserve. Just a few of the problems that many companies have to deal with. Not consciously, but in the delusion of the day, certain matters are overlooked. And as long as no one raises the alarm, nothing changes. A shame, because as a company you are potentially losing a lot of revenue. Salesforce may be the solution for your organisation. What does this platform have to offer, what price tag does it carry and for which organisations is it interesting? Today I am sharing my Salesforce review with you.
What is Salesforce?
Salesforce is an enhanced customer relationship management (CRM) system that lets you coordinate your entire sales, marketing, and e-commerce efforts. A standard CRM system centrally stores customer, vendor, and employee data. Salesforce takes this a step further: it's the beating heart of your organization, allowing you to interact with customers in the most effective way possible. With a lot of CRM data.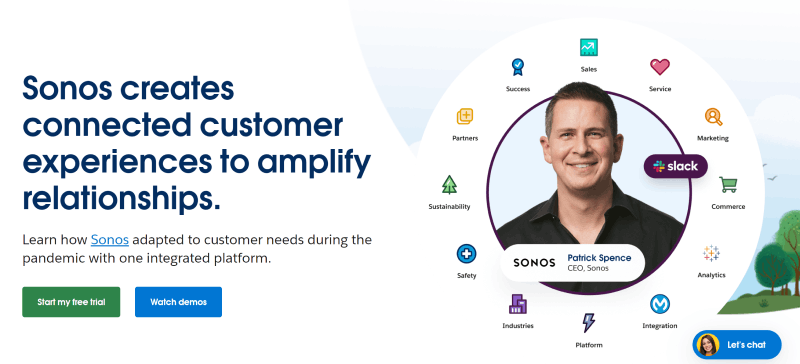 Salesforce: one of the first cloud-based platforms
If you Google on 'Salesforce review' or a term of the same name, you will often read that this is a 'cloud-based platform'. Of course, we all know about the cloud and how it stores data. But what does it do for you?
You access a cloud-based platform online. So you don't put heavy programs on your own server, but you can access the software from anywhere in the world via a personal URL. The advantages of cloud-based software are as follows:
Quick to use: you immediately work in the cloud
No upfront costs because you can use the applications immediately
Grows with you: easy to scale up in the cloud, so you never have to deal with capacity problems
Accessible from anywhere in the world
Maintenance-free for you as a customer
Better security
BI, AI & more
How often do you actually open the reports shared by the BI department? Too little, especially if you are sent whole books without concrete advice. Time is money and spotting opportunities is a thing of the past. Salesforce helps you work more efficiently and get more out of your sales and marketing efforts. Artificial Intelligence (AI), among other things, lets you make the software work for you, instead of the other way around.
Synergy between departments
All departments take on their tasks as separate islands and fires are put out here and there. Systems do not fully connect, causing information to go missing and growth to stall. These different departments should not work against each other, but rather together. Then magic is created and you can really add value. Salesforce is responding by offering an all-in-one tool that integrates with all departments and provides real-time information.
The functionalities of Salesforce
Secretaries, schedulers and personal assistants should scratch their heads when their employers switch to Salesforce. This all-in-one CRM software eliminates the need to pick up the phone, shoot appointments into the calendar and follow up on leads manually. Salesforce identifies sales opportunities faster than Usain Bolt's PR in the 1,000 meters. Salesforce…
Gives you greater visibility into your sales pipeline and automates repetitive tasks;
Helps you convert leads into deals;
Enables you to better serve your customers;
Enables sales, marketing, and service to work together rather than against each other.
Salesforce consists of several cloud services. The best-known, and most accessible, is the sales cloud. From here, you can upgrade to additional clouds depending on your needs. You can upgrade with:
Service Cloud
Marketing Cloud
Commerce Cloud
Sales Cloud
The sales cloud is Salesforce's flagship product. It includes functionality to manage contracts, allows the sales force to automate tasks, provides sales forecasts, and measures productivity. The sales console provides sales teams and managers with insights and information to manage and optimize their sales cycle. Tasks are prioritized and customer relationships are managed. All your customer information has a place in this tool. Working with BANT to qualify leads? No problem: all the details are easy to process and view in Salesforce.
Sales cloud from Salesforce can be tried for 30 days in a free trial. The sales cloud is, as the name suggests, the beating heart of your sales department. From lead generation to contract management, you will find it all in this environment. When you log into the sales cloud, you enter the 'sales console'. The dashboard where you find all important information and on which you base your decisions. In this overview you will find…
A graph of quarterly performance based on your sales targets;
Overview of daily tasks
Overview of daily events;
Recent contacts;
An overview of your customer accounts;
An assistant that provides an overview of opportunities and things to follow up on.
From the main page, you can use the left menu to view the specific reports and dashboards. These are the following:
Sales
Lead generation
Sales operation
Sales leadership
Relationship management
Sales console
There are also a number of general settings on your dashboard, namely: App Lightning usage, Bolt solutions, digital environments and your account settings.
Salesforce is like an aorta: it's your organisation's lifeline. You start with optimising your sales organisation and making it more efficient, then you expand with additional clouds. From your sales cloud you can add these additional products and easily switch between the dashboards within the platform.
The free trial only works for the sales cloud. The marketing, service and commerce cloud cannot be tested for free during this 30-day period. According to Salesforce, these are advanced products that need explanation by a sales representative. However, you can request a demo for these additional clouds on the website.
So you can't test the clouds below, but a Salesforce review isn't complete without them. That's why I'd like to tell you briefly about the most important features of these add-ons.
Marketing cloud
What makes companies like Netflix, Spotify, and Amazon successful and that keep them there? They respond to your preferences. During an evening of aimless zapping, you are presented with new series that match your viewing habits. A nice playlist is played on Spotify after your own list has ended and Nike knows exactly which design makes your heart beat faster. The common denominator of these companies? Personalization.
Marketing funnels
The examples of these companies are hyper-personalization and might still be a step too far for you. But by personalizing step by step, you build up more data and get to know your customer better. No more sending bulk e-mails to all your newsletter subscribers, but sharing the right message at the right time. Based on the behavior and interests of those who are interested. Without spending hours of your time on it. Set it up once and then monitor, analyze and optimize from there. Making this Salesforce review, we were impressed by the tools and options to set up marketing funnels.
SalesForce marketing cloud functionality
You do that with the Salesforce marketing cloud. This is where you build long-term relationships and get to know your customers better, with the aim of increasing turnover and retention. Marketing cloud offers the following marketing tools:
Journey Builder
Email Studio for e-mail marketing
Salesforce CDP
Mobile Studio
Advertising Studio
Datorama
Interaction Studio
Data Studio
Google Analytics 360
Pardot (a separate e-mail programme in which you set up marketing tunnels)
Service cloud
The frustration of entrepreneurs who focus on the masses: streamlining customer service. A phone that is red-hot all day, the mailbox bulging with orders, support tickets that are shot and questions that pile up via various social media channels.
With the Salesforce Service Cloud, you can manage all interactions in one overview. The Salesforce Service Cloud includes tools for field service operations, computer telephony integration (CTI), web chat, and customer service via social media. By making customer service more efficient, employees have a better overview. As a result, your customers will be served faster, you will improve the user experience, and that will be reflected in your bottom line.
Commerce cloud
Gearing your marketing to your target group, getting to know your customer, optimizing your product or service, increasing your returns, and providing the best solution for your customer. As an online retailer, you want to offer your customers an optimal shopping experience. The E-commerce Cloud is indispensable for large e-commerce customers. With it:
Automate your processes for optimal delivery and payment;
Link your e-commerce to your customer service for better support and therefore more satisfied customers;
Link your shopping experience to marketing, sales, and service;
Offer the best shopping experience with personalized campaigns;
Increase conversion rates using AI (Artificial Intelligence);
Implement new technologies faster so your business can grow faster.
Try e-commerce in Salesforce for free
Salesforce Einstein: the AI engine for next-level CRM
The AI capabilities of Salesforce are truly noteworthy. With the rise of ChatGPT and other AI models, Salesforce is also heavily investing in AI. They've actually been at this for quite some time. The CRM giant has evidently chosen total integration of AI across their wide range of products. Salesforce Einstein is an AI solution intricately woven into the breadth of the software.
A few functionalities stand out:
Predicting Business Outcomes
A remarkable application is the predictive lead scoring system. This system utilizes machine learning algorithms to evaluate and rank potential leads based on their likelihood to convert. This aids sales teams in focusing their attention on the most promising leads. Not many CRM solutions offer this level of advanced predictive scoring.
Interacting with Salesforce
Another significant feature is natural language processing. This capability allows users to ask questions in plain language, simplifying the search process. Thanks to advanced NLP algorithms, Einstein comprehends the context and intention of the query, providing relevant information from the data sources within the CRM.
Insights
Einstein Analytics provides in-depth insights through advanced analysis and predictive modeling. This platform leverages AI to identify patterns, forecast trends, and offer recommendations based on historical data. This enables businesses to make more informed decisions, identify opportunities, and anticipate future developments. Using advanced visualizations and customized reports, Einstein Analytics makes complex data understandable.
Useful Tools
Various handy tools are available to users. For instance, the automatic transcription of recorded online sales conversations, with highlighted key points, stands out. It's quite useful to have this information readily available in the CRM after a call!
Salesforce integrations with other software tools
Using Salesforce means saying goodbye to disparate software tools, spreadsheets, and crumpled note cards. From now on, you manage everything in one overview and your organization changes from separate islands that work against each other into a well-oiled marketing machine. Salesforce itself offers a wealth of functionality. But do you miss something? You can create links with other software programs via the App Exchange. Think of LinkedIn Navigator to increase sales opportunities or Pandadoc to digitally sign agreements.
💡Tip!
Are you comparing different CRM packages?
Then use our CRM Comparator to make the right decision for your organization.
Salesforce costs
Salesforce, however, is not a CRM system, and the software's functionality is not fully appreciated. Compared to other CRM systems, Salesforce has many more features and integrations. It is an all-in-one system in which you manage your leads and customers. That also means that, compared to other software, you have to pay quite a bit for this tool.
The costs of the Salesforce sales cloud at a glance:
Essentials: Ready-made CRM for up to 10 users.
25 euros per user per month.
Professional: Complete CRM for teams of all sizes.
75 euros per user per month.
Enterprise: The most comprehensive CRM for your business.
150 euros per user per month.
Unlimited: Unlimited CRM power and support.
300 euros per user per month.
Additional costs
You pay extra for each additional cloud or add-on. These fees are not standard and depend on your needs and desires. Please contact your Salesforce representative during your trial to find out what additional fees apply to you.
Salesforce Service/Support
No matter which cloud-service or plans you choose, support is included with a two-day response time. You also get access to the customer support community and free participation in interactive webinars, events, and mentored tracks.
In addition to the standard support, you can expand with "Premier" or "Signature". You will then receive extra support for an additional charge. With 'Premier', you pay 30% of your monthly fee and receive expert help and live support, among other things. With 'signature', you receive proactive help and incident management, among other things. Prices depend on the complexity and are tailored to your needs together with a Salesforce specialist.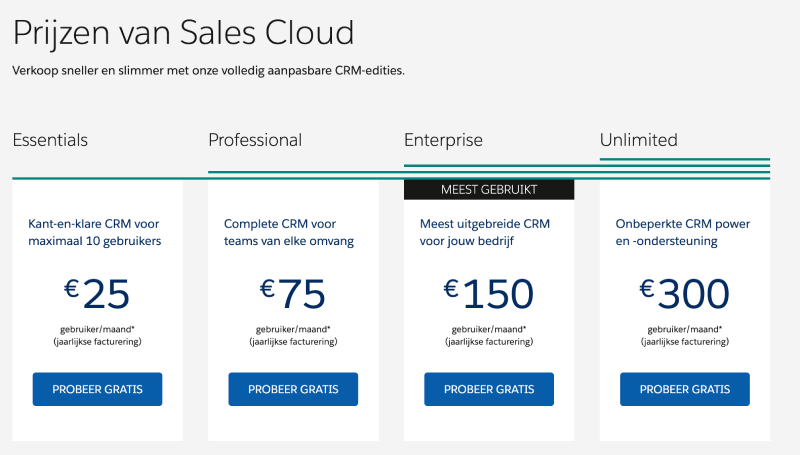 The pros and cons of Salesforce
Cheap is expensive. That is undoubtedly one of Salesforce's mottos. Because although the software comes with a hefty price tag, it offers an all-in-one solution for large organizations. Is it worth the investment? We list the pros and cons for you.
Benefits of Salesforce
➕ Many more capabilities than standard CRM systems
➕ One software solution that captures all your sales, marketing, service, and e-commerce solutions
➕ Integration with more than 1,000 apps
➕ Widely applicable for almost all industries
Cons of Salesforce
➖ Relatively expensive compared to other CRM systems
➖ Interface looks outdated
➖ Standard support is minimal
➖ Each additional cloud service is an additional investment (one often speaks of vendor lock-in)
Salesforce review: why should you (not) choose this software?
If you Google salesforce reviews online, the opinions are quite diverse. Salesforce was one of the first software tools based on the Cloud and offered (and still offers) the most functionality in the field of sales.
At the same time, as an organization, you usually have to dig deep into your pockets to use this tool. For the basic version you pay at least 250 euros per month and for the unlimited sales cloud subscription 3,000 euros, based on 10 users per month. This does not include any upgrades to support add-ons.
Salesforce is now working hard to make an attractive offer for small and medium-sized enterprises as well. If you are growing rapidly, this is even a very good option; Salesforce can grow along with you indefinitely.
Salesforce is particularly suitable for complex and/or larger sales organizations. Especially if you are looking for a higher ROI of the department and state-of-the-art functionalities. Think of the use of AI that is fully integrated into your CRM, comprehensive insights based on data, and a platform that lets you scale with extensive integrations. It is very stable and well-thought-out tooling for larger organizations. In fact, there are not many tools that can match Salesforce's world when it comes to enterprise organizations.
Wondering if Salesforce is a good addition to your organization? Try it out for free for 30 days.
Alternatives for Salesforce (with review)
ActiveCampaign
Want to optimise your marketing and sales process, without spending the profit on your marketing tool? ActiveCampaign lets you streamline marketing processes and follow up leads more easily through marketing automation.
👉 Reed our ActiveCampaign review
HubSpot
Is your organization growing out of its size and can tools like ActiveCampaign no longer cope with the demand? HubSpot is an all-round tool for marketing and sales. It offers less functionality in the area of sales, but is a real all-rounder for larger organizations.
SuperOffice
Another player in the CRM market that has been around for a long time and targets larger organizations is SuperOffice. It is originally a Scandinavian tool but is now sold and used worldwide. Like Salesforce, SuperOffice offers a lot of functionality for sales departments. There are also marketing functions but in general, it is a useful initiative tool for Sales.
Gripp
Are you working at an agency looking for an accessible software tool that gives you insight into your billable hours, customers, employees, and suppliers? Gripp is an projectmanagement and CRM system in one.
This software company primarily targets agencies and business service providers with their software tools. It automates various tasks including planning, hours, preparing quotes, sending invoices, and creating reports.
FAQ about Salesforce
Finally, the most frequently asked questions about Salesforce for you…
What is Salesforce?
Salesforce is originally a customer relationship management (CRM) system that offers many additional features to take your sales organisation to the next level. Salesforce enables you to attract leads more easily, respond better to the customer journey, improve your conversions and expand your basic package with marketing, service and e-commerce solutions.
What does Salesforce cost?
Costs for Salesforce start at €250 (for 10 users) and go up to thousands of euros, depending on your needs.
Why Salesforce?
Salesforce is the most comprehensive software tool when it comes to lead generation and sales. Especially large sales organizations with complex processes increase their efficiency with this comprehensive software tool.
This Salesforce review was written by Jody Op den Buijsch and Marcel Nanning. We have tried to give the best possible impression of this tool. Our reviews are based on our own experiences with tools and those of others. If there are any errors in the review, please let us know.