by Marcel Nanning
|
Last Updated:
January 12, 2022
An ActiveCampaign review has been on my list for a while. This is a fast growing marketing tool that I hear a lot about in my area. Marketers are often enthusiastic about this Marketing Automation, email marketing and CRM tool. Because that's it; a user-friendly all-rounder at a good price.
That requires some explanation…?
Email Marketing
The market for email marketing tools is saturating and a number of well-known names have made significant headway. Tools like Mailchimp are popular, but if you look at the price/value ratio that ActiveCampaign provides compared to a party like Mailchimp, ActiveCampaign comes out very well.
Not only does this program offer a wide range of features that Mailchimp also offers, it can do a lot more.
Marketing Automation
Also in the field of Marketing Automation, ActiveCampaign shows that a complete, powerful Marketing Automation tool does not have to be expensive…and not complicated! HubSpot or Marketo is much more expensive and (depending on the wishes of the user!) does not always offer much more added value.
CRM
Then there is ActiveCampaign's CRM functionality. An excellent card catalog with sales opportunities management to be able to use as an SME. Smaller tools such as FunnelCRM or PipeDrive offer more in this area. However, its strength lies in the combination of CRM, Marketing Automation, and an email marketing machine. And that's where ActiveCampaign comes in with a very strong story, for an attractive price.
Click here and try ActiveCampaign for free
1. ActiveCampaign Background
ActiveCampaign started in 2003 and now more than 525 people work on the development, sales and service of this tool. The tools are sold worldwide and 130,000 companies use them.
ActiveCampaign operates worldwide
The company targets SMBs with their software from offices in Chicago, Indianapolis, Sydney and Dublin. Although the offer is ideal for SMEs, there are also solutions for larger companies and enterprise organizations.
The tools they offer contain multiple functionalities such as Email Marketing, Marketing Automation, CRM, Messaging and Machine Learning.
Nice software with many possibilities
The company is growing fast because they do several things very well such as; a pleasant onboarding process when you start with ActiveCampaign. In addition, the organization offers an extensive set of underlying documentation to show the software to its best advantage and to help you as a marketing or sales professional become successful in your work.
In addition to an active community, there are also external consultants who help companies with the optimal use of ActiveCampaign. The most important asset seems to be; the combination of email marketing, marketing automation and CRM, applicable for small and large companies.
We will zoom in on these and more parts of the ActiveCampaign services later in this review.
2. Tool setup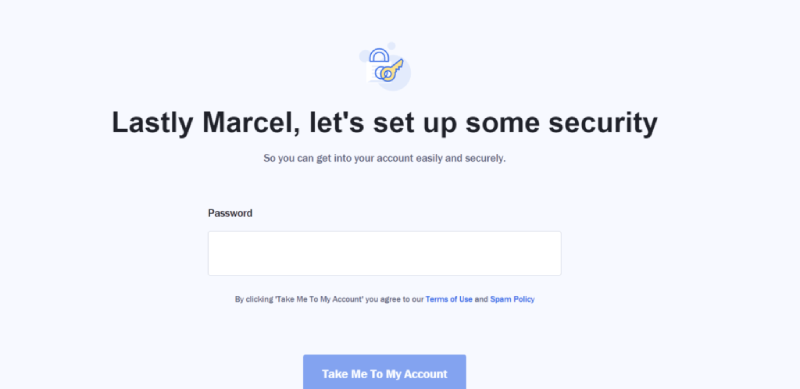 If you opt for the free trial (click here if you can't wait) you will go through a setup in a few steps. This is simple and lightning fast. ActiveCampaign provides an excellent customer experience here, so you can quickly get started building automated marketing campaigns.
The tool can be set up without the help of technical consultants or marketing consultants. If a lot of data has to be transferred or if there are more complex wishes with regard to automation, there are agencies and consultants who can support you with this.
3. Marketing Automation
The strength of ActiveCampaign is: Marketing Automation. This is well put together and offers the possibility to have marketing activities run automatically in a few clicks.
An example of Marketing Automation in ActiveCampaign:
You set up a whitepaper download campaign in which visitors receive the download in exchange for a number of data. This consists of:
a form on the website,
an email with the white paper,
a follow-up email and
an activity in CRM.
You can drag the campaign together via a visual representation of an automation flow. Not only forms and e-mails, but also actions from the CRM part can be used here, such as creating an action in CRM.
The visual display in combination with the drag & drop function works very nicely, which makes setting up these types of campaigns a fairly simple process. This is a visual way to create marketing funnels! One of the features that we loved the most, making this ActiveCampaign review.
4. CRM in ActiveCampaign
For this ActiveCampaign review we are creating an opportunity for a digital software product. We can enter a value on it and an expected order date. Adding sales opportunities is very easy. If contact details are missing, you can enter them when creating the opportunity without leaving the widget.
With this ActiveCampaign indicates that it has looked at the user wishes because the screen over screen approach of many packages is very irritating in these cases.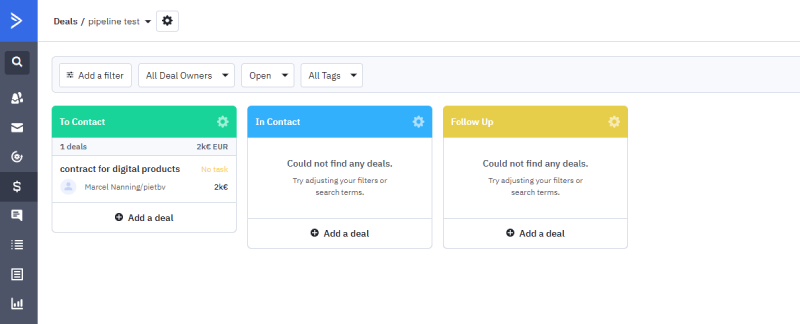 Just like other elements, parts from the CRM module can also be used to add to Marketing Automation flows. That's a cool option!
Broadly speaking, the CRM solution within ActiveCampaign is good, but it cannot be compared with hardcore CRM systems. For extended CRM functionality, users should opt for a separate CRM system and integrate it with ActiveCampaign.
Click here and try ActiveCampaign for free
5. Forms
You can create and use forms to convert website visitors into leads. You can easily click these forms together with a visual form editor. Because the forms are set up in ActiveCampaign, you can also use the form data directly in the tool for follow-up actions. The data therefore enters the system directly. In this video a short demo of the form option, especially for this ActiveCampaign Review.
ActiveCampaign works everywhere with drag&drop, even when composing forms.
6. Compose emails
Composing the email is the same as with other tools. You go through a number of steps and eventually enter an edit mode where you can compose emails and add content based on blocks. Standard templates can be used from the library and I personally find them a bit sparse. I also expected some more business templates for b2b mails here.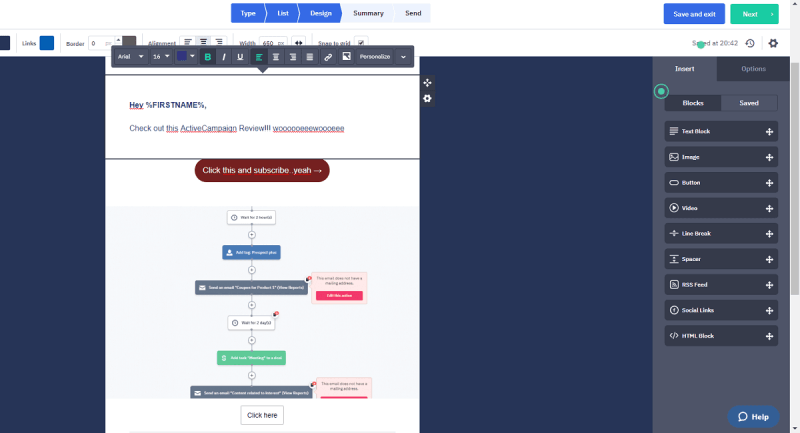 ActiveCampaign offers even more templates from a shop and you can experiment endlessly with the editor. This also works with a drag & drop system. ActiveCampaign adds tricks to that. An example I accidentally came across while doing this ActiveCampaign review; per block you can indicate whether the content should also be visible on mobile. Useful!
Click here and try ActiveCampaign for free
7. Analytics & reporting
As with all marketing automation and e-mail tools, you can rely on thorough reports at ActiveCampaign. Generate insights into campaign performance, analyze emails and make informed decisions based on that.
You can rely on the reporting capabilities as you can expect. For the e-mail and automation part, for example, you can monitor things like:
number of opened emails
number of bounced emails
number of clicks
who clicked on certain links
number of unsubscribes
The CRM part of ActiveCampaign has typical reporting options such as:
the total order value of the pipeline
number of customers
number of leads
Total turnover
The reporting component is therefore well put together at ActiveCampaign.
Click here and try ActiveCampaign for free
8. Integration between ActiveCampaign and other systems
Interesting benefits can arise by integrating E-mail marketing and Marketing Automation tools with other systems. Think of the direct integration of forms from the marketing software into the website (CMS) or a direct link between a CRM system and the Marketing Software for managing relationship cards in 1 place in the organization. ActiveCampaign provides these kinds of integrations through Zapier and its own apps.
The systems with which ActiveCampaign provides active integrations are, for example, CRM systems such as SalesForce, CMS systems such as Magento, Analytics tools such as Google Analytics, Forms and lead generation tools such as Click Funnels and Social Media such as Twitter.
9. User-friendliness & service
ActiveCampaign has a pleasant way of working. Drag & drop is widely used. You can also choose from standard templates and preset flows to put together campaigns faster. While preparing the ActiveCampaign review, we clicked through the entire tooling and experienced some loading time lag.
ActiveCamping Support capabilities
An extensive support section is available to help you get started with all functionalities such as CRM, Automation or Reporting. The tooling also helps you on your way during use by giving in-software instructions.
Trainings, FAQ and articles
In addition, you can follow training courses, ask questions via a live chat and submit support questions. There is also a ton of documentation available to help you get started and get the most out of the tooling. Think of videos, articles and FAQs. ActiveCampaign provides a set of documentation for each marketing or sales discipline to help you on your way. For example from such an article within the theme 'Automation': Creating an automation walkthrough.
Free tools and templates
In addition to these articles, there are also free tools to download. Think of a free Webinar deck with free Webinar templates. It contains everything you need to set up and promote a webinar, such as a checklist and an automation flow with no less than 8 predefined emails to use in ActiveCampaign around the webinar.
ActiveCampaign consultants
There are also partners such as Marketing Bureaus that help companies set up and use the tooling. As an agency you can become a reseller and help customers with an ActiveCampaign solution branded by your agency. An ActiveCampaign Agency Partner is trained to properly help customers with the use of the tooling.
10. Machine learning & AI
An interesting development in marketing and sales software is that of machine learning and AI. ActiveCampaign uses these techniques to make estimates of a sales opportunity and shows how likely it is that a certain lead will lead to an order. Based on that advice, activities can be adjusted and sales efforts prioritized.
Machine learning is also used by ActiveCampaign to ensure that messages arrive at target groups at the right times so that the chance of opening, reading and clicking through is the greatest.
A tiny disclaimer
For this ActiveCampaign review, we have not extensively delved into this functionality. We have looked at the central needs of marketers and, especially in the B2B environment, other functions are usually of greater importance. The focus is more on good e-mail marketing options such as e-mail templates, user-friendliness, automation, analyses, list management and connectivity.
AI en MachineLearning are taking over SaaS
Nevertheless, the developments of AI and MachineLearning are rapidly finding their way into SaaS tools to further automate processes. Automatically enriching the database by adding data from other sources to the lists or CRM environment is a good example of this. AI and Machine Learning are on the rise and here-to-stay!
In that respect, it is reassuring that ActiveCampaign pays attention to this and is on top of it.
Click here and try ActiveCampaign for free
11. ActiveCampaign pricing
From 9,- you can use a wide range of functionalities of ActiveCampaign. The pricing plan looks like this:
Based on price per month (checkout for 1 year).
Assuming a maximum of 500 contacts in USD.
Lite: 9,-
Plus: 49,-
Professional: 129,-
Enterprise: 229,-
If you compare this with packages like HubSpot (SME plus and enterprice Marketing Automation and CRM), ActiveCampaign is a bargain. Compared to a self-employed/SME email marketing tool such as MailChimp, the package is slightly more expensive. For this ActiveCampaign review we compare email marketing and marketing automation.

ActiveCampaign offers more functionalities in the field of automation and CRM than an email marketing package such as MailChimp. It is impressive how ActiveCampaign manages to offer a comprehensive, user-friendly tool that is suitable for small and large organizations.
ActiveCampaign will be an excellent choice for SMEs that are serious about e-mail marketing including Marketing Automation. The CRM part is a nice bonus, but I can also imagine that organizations often choose a separate solution for this, depending on the wishes and how sales opportunities management is interwoven in the organization.
12. ActiveCampaign review screenshots
A few more screenshots from ActiveCampaign to get a feel for the look & feel of this tooling.
13. Benefits of ActiveCampaign
+ A complete Marketing Automation, e-mail marketing and CRM tool in 1 that many companies can use very well.
+ User-friendly and you can get started right away. You don't need to be an experienced technical marketing consultant to set up email marketing campaigns and marketing automation campaigns with this tool.
+ A friendly pricing model for a broad target group. Both freelancers and enterprise target groups can use this tool (depending on the marketing wishes of course).
14. ActiveCampaign cons
– While clicking around for this ActiveCampaign review, we occasionally ran into performance issues; loading time! It is a SaaS product that is occasionally in high demand. This can sometimes be at the expense of speed.
– The tool is diverse but not a typical best-of-breed solution. ActiveCampaign cannot be compared to full CRM solutions.
15. Final verdict ActiveCampaign
I am especially impressed with the e-mail marketing and automation part and you can set up a serious marketing machine with this tooling. It's also nice that it has a CRM option, integrated with the rest. If CRM software isn't up to par, there's a strong partnership with SalesForce so if you work with that, you'll be fine. The ActiveCampaign environment, so the tools, articles and community also offer many advantages. And, the fact that consultants can be found locally is also an advantage for less technical companies or organizations that want to get the most out of the tooling and set up the more complex campaigns.
Okay, so…..?
I have already seen and tested many tools, but I must say that I was pleasantly surprised when I came across ActiveCampaign. The tool is ready to go in a few clicks, feels good and is quite easy to understand. It is above all a very interesting pricing for the value you get for it.
….the final verdict of this ActiveCampaign review is very positive!
ActiveCampaign alternatives
Looking for alternative tools to ActiveCampaign to make a good comparison? Then also check out the comprehensive powerhouse: Hubspot.
Check our Hubspot review
Or: explore the capabilities of the friendly-priced email tool Mailerlite. This Mailchimp-killer puts a smile on your face! It offers a lot of value for a friendly price. The e-mail software is not as comprehensive as ActiveCampaign but it might fit your needs.
Check out our MailerLite review