by Marcel Nanning
|
Last Updated:
January 3, 2022
You may know Monday as a project management tool, but the platform is much more widely applicable. For example a CRM for the b2b. Curious about what this tool has to offer? Find out in this extensive Monday review.
What is Monday?
Monday is a platform that can be used for various functions, processes, and departments, for example as a CRM or project management tool. But Monday is also suitable for supporting recruitment processes, software development, marketing campaigns, etc. In their own words, it is a work OS (work operating system) to support multiple work processes in an organization.
Fast growth
Monday was founded in 2012 by Roy Mann and Eran Zinman. Based on $1.5 million seed capital, the company has sprung from an apartment in Tel Aviv and has quickly grown into a global player in the business software market. Initially, it was called DaPulse to change to Monday in 2017. The tool originated from the desire to promote collaboration between teams. Because it is set up as an operating system, it lends itself to expanding and covering multiple processes in organizations.
The software is now available in 11 languages ​​and there are offices in various countries. The solution has its own marketplace for third-party apps and more than 100,000 customers.
In this article, I mainly review Monday as a CRM system.
Monday onboarding
As soon as you create an account on Monday, you will be asked a number of questions. About your position, the team, and for what purposes you want to use Monday. This last question is especially important because the setup of the platform is based on this. Since I only want to use Monday as a CRM, I selected all options under 'Sales/CRM'. Then you can start setting up the CRM system. You can choose a standard template or a custom project. For this review, I choose the default template 'CRM'. If you choose a standard template, you will be guided through the various fields and options by means of speech bubbles. One downside: if you want to discover the template yourself, you can't disable these balloons. The onboarding also works clearly.
The wiring of the Monday CRM system
Monday's CRM system consists of workspaces. You can set this up as desired, for example, a workspace per department. Within such a workspace you can create folders, such as 'CRM'. Boards hang under a folder. In this case deals, contacts, accounts, leads, activities, sales dashboard, and CRM learning center. The display of these boards is customizable. So you can display it as a table, Kanban board, Gantt chart, calendar, and more. Therein lies the power of Monday. Due to these layouts, Monday can be used for various processes and departments.
It takes some getting used to, but once you get the hang of it, it works nicely. The unique setup with boards is an enormous strength and at the same time a kind of weakness; you can set up various processes using the boards. That makes it not a hardcore CRM system. It is a very comprehensive software that is good for many purposes.
I discuss the Monday CRM per board in this Monday review.
Monday Deals
One of the most important and characteristic parts of CRM software is the processing of sales opportunities and orders (opportunities & deals). Monday's deals board from the standard CRM template has a lot of what you can expect: an overview of the current deals, the phase, the person responsible, the value, and how long the process has been running. I think it is a nice addition that the associated tasks are displayed per deal in a drop-down menu. This way, sales employees and team leads can immediately see which tasks are still open for a specific deal.
Another interesting field is the Forecast Value. This value is calculated based on the deal value and the estimated probability (%) that the deal will be closed. This is a good example of the possibilities that Monday has: you can also use these calculations for custom columns.
Contacts
The standard 'Contacts' board also has what you expect. For each contact, the company, deals, position, type (lead/customer/etc), contact details, and deal value are displayed. There is also space for notes. I would like the rows to be a little higher in size to create a better overview, but that is a personal preference. Are you missing specific information? Then you can easily add this as a column.
Dozens of column types are available, from status to checkbox and from tag to dropdown. Adding contacts is also easy: you click on the 'New Contact' button and a new, fillable row appears. Other systems such as Pipedrive usually offer a little more functionality around the contacts database. Especially when it comes to creating segments, lists, and filters, we see that other systems have slightly more options for this.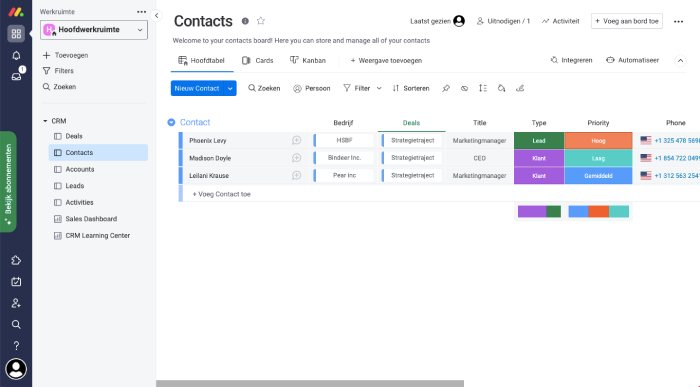 Leads
An opportunity usually starts with a lead. This can be website visitors, people who have spoken to sales at a trade fair, tips from other customers, etc. A complete profile is not always known yet, but you do have data that you want to record. Monday offers options for this.
For a complete overview of the current leads, use the 'Leads' board. Here you can see the responsible person, status, contact details and any comments at a glance. I can imagine that this type of board works very well if the data from a (specific) form is loaded onto the website. Think of a form for a quotation request, lead downloads, or the contact form. In this way, the board can also serve as a ticket system. You can easily turn the leads into contact by clicking the 'Move to contact' button.
In addition to the boards discussed above, the CRM template also has a board for accounts, activities, a sales dashboard, and a CRM learning center. I'll ignore this one for now.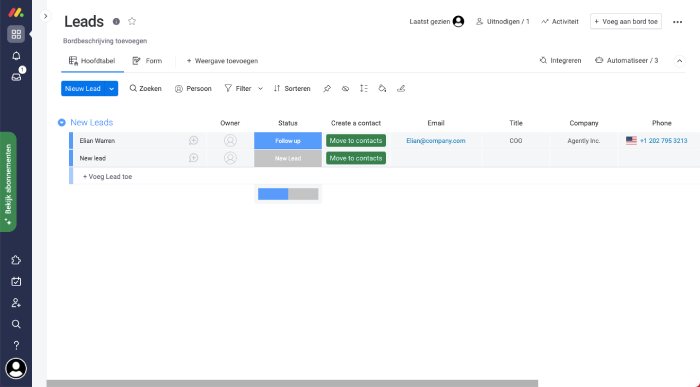 Other Features: Scheduling and Teams
The workspaces are the most used part of the Monday CRM. However, I would like to discuss two other functions that are also relevant to the CRM: planning and teams. For example, in 'My week' you have an overview of all tasks open to you per week. You can also find completed tasks here.
At 'Teams' you invite team members to your Monday environment and manage access rights as administrator, viewer or guest. I find the possibilities for access moderate. It is not possible to shield part of a board, for example.
Watch this video for a look & feel of Monday:
Monday integrations
When choosing a CRM system, it is important that it integrates with all the other systems in your company. Monday has all kinds of options for this in the Apps Marketplace. It integrates with most common systems, such as Gmail, Outlook, Google Drive, Asana, and Zendesk. But you will also find integration options with, for example, Facebook and LinkedIn. Wondering if Monday fits into your digital landscape?
Support
Every project management or CRM solution that is offered as SaaS needs a good support safety net. If users have questions about using and optimally deploying Monday software, they can get help in several ways.
Knowledge base
There is a knowledge base with articles (guides) on various topics. We did a quick test on the search query: 'how do you create a lead in CRM?' and got a clear result in the form of a guide with video and images. The guide discussed in detail how to create a lead in the tool. The article also gave a lot of other information, so it's not an answer to that one question specifically, but a general guide to Monday CRM.
Community Forum
In addition to the knowledge base, Monday users can get support through a forum. Tens of thousands of users have now had access to it and many answers can be found.
Tutorials & webinars
Users can also turn to a library of tutorials and attend webinars.
Email & telephone contact
If you are using the software you can also email the support address or call the number 1(201)778-4567.
How much does Monday CRM cost?
The rates for the Monday CRM start with a free variant for individuals. This offers a solution for (starting) freelancers, students, or for personal use. As soon as you want to be able to share boards or work with a team, you will arrive at one of the paid subscriptions: Basic, Standard, Pro, or Enterprise. The difference between this subscription lies in the storage space, available functions, and the number of automations and integrations. Below you will find the monthly costs per subscription and the maximum number of users.
| | | | |
| --- | --- | --- | --- |
| | Basic | Standard | Pro |
| 3 users | €24 p/m | €30 p/m | €48 p/m |
| 10 users | €80 p/m | €100 p/m | €160 p/m |
| 25 users | €200 p/m | €250 p/m | €400 p/m |
| 50+ users | price on request | price on request | price on request |
The conclusion of this Monday CRM review
Monday has understood user-friendliness well: the platform is very intuitive and you quickly get to know it as a newbie. This offers opportunities for rapid onboarding during implementation. Because of the setup of the tool (workspaces, folders and boards) you can easily be organized the way you want. Moreover, Monday can be widely used for various processes and goals. This makes it possible to bring multiple independent systems back to one system.
The setup also has a disadvantage: you have to make do with the layouts that Monday offers. Although there are different views, there is little room for customization beyond that. Monday also has no automatic weekly reports, so you miss easy access to insight. The Marketplace can also be expanded a bit. Commonly used email software ActiveCampaign, for example, does not appear here.
Who is Monday (not) suitable for?
I see Monday as a suitable CRM tool for individuals. As a company with a small team, I would only choose Monday from a cost perspective if it is used for more purposes than just Sales/CRM. For medium-sized companies looking for a clear, user-friendly CRM system and little need for customization, Monday is worth investigating.
Alternatives to Monday CRM
We have seen in this Monday CRM review that the architect of this tool is unique. The design with boards, which can be used for CRM, project management and other purposes, makes this a tool like no other. However, if you are looking for CRM for an SME with a lot of functionality, then there is plenty of choice. Some alternatives to Monday CRM.
Alternatives to Monday can also be found in the project management corner. For more insight into project management tools, I refer you to this article: Project management software.
FAQ about Monday
What functions does Monday provide?
Monday is a multi-purpose platform including project management, process management and as a CRM.
Who is Monday CRM suitable for?
Monday CRM is suitable for teams that want to get started quickly with a user-friendly CRM system and require little to no customization.
What does Monday CRM integrate with?
Monday CRM integrates with many common systems, such as MailChimp, Gmail, Typeform, Zoom and Dropbox.