by Marcel Nanning
|
Last Updated:
January 28, 2022
Free CRM systems are not up for grabs. That makes sense because usually the good things in life don't come for free. However, there are many affordable CRM systems and yes, there are some very good free CRM systems. We will go deeper into this in this article. Read along and discover free CRM for 2022!
Which free CRM systems are there on the market?
Take a step back. The market for CRM software is huge. That is logical because CRM offers many advantages. There is a typical solution for every type of company. The market differs from hyper-specific CRM systems to broad all-rounders that cover entire business processes. You can also choose SAAS or on premise tools. CRM systems increasingly also have CRM apps to access the most important functions of the software on all devices.
How does free CRM work?
The enormous competition in the market also has advantages. As a result, suppliers are forced to offer good user experiences at competitive prices. The free solutions (which of course serve as a marketing tool for the paid versions) are also becoming increasingly interesting. The free versions are in many cases so complete, rich in functionality and user-friendly that in many cases it is not necessary to switch to the paid version.
Of course, the suppliers assume a logical development that customers go through. As a result, the needs of most customers grow automatically. There is a need for more functionality, more users or capturing more contacts or sales opportunities. In those cases, the switch to a paid version is the logical consequence.
fast & good
At a certain stage in a company, the need for a system to record contacts and register sales opportunities quickly arises. "Isn't there a free CRM tool we can use?" is a frequently asked question at the time. Organizations often need something quickly so as not to slow down the development of the company and minimal functionality is sufficient. Once you get started with CRM, there is a good chance that the need for more functionality will grow quickly. Most free tools therefore offer paid options for expansion.
You can imagine that this kind of software is not easily available for free. However, the number of providers is growing.
These are a number of free CRM systems: Hubspot CRM, Bitrix24, ZOHO CRM and Overloop.
1. Hubspot: free CRM system for the basics
Hubspot is one of the largest marketing automation providers in the world. With their idiosyncratic character, they have created an innovative tool that responds to the inbound marketing trend. This software was originally intended for generating leads by using content marketing. Functions such as lead scoring and email marketing form the basis for this software. It soon became clear that all that data had to go somewhere; in a database. That's why Hubspot developed a free CRM system called HubSpot CRM. This solution provides exciting opportunities for small businesses to track business and contact information and manage sales opportunities.
Forever a free CRM system
Hubspot has announced that this will remain free CRM software forever. The aim is to introduce companies to the organization from the free CRM software. Of course to convert them later to the paid CRM functionality or the marketing automation software.
2. Bitrix24 CRM: a lot of features
Another free CRM system that is popular is Bitrix24. This software, founded in 2012, offers an interesting version for novice CRM users, freelancers or small businesses. You can do a lot with the free version. Think of:
Recording contacts and companies
Managing deals (opportunities)
Managing tasks and projects
Chat and video call support
Support
What the free version does not support are things like: reporting, marketing functionality and other more advanced solutions. There is also a limitation on the number of users.
Bitrix24 delivers a lot of value for free CRM with this. With that, they have found a clever sales trick to introduce users to the tool. Almost all users will eventually need more functionality and Bitrix24 is already a trusted partner. The switch to a paid subscription is then close at hand. Nothing is free in life so ultimately free CRM software is in most cases meant to convert you into a paying customer.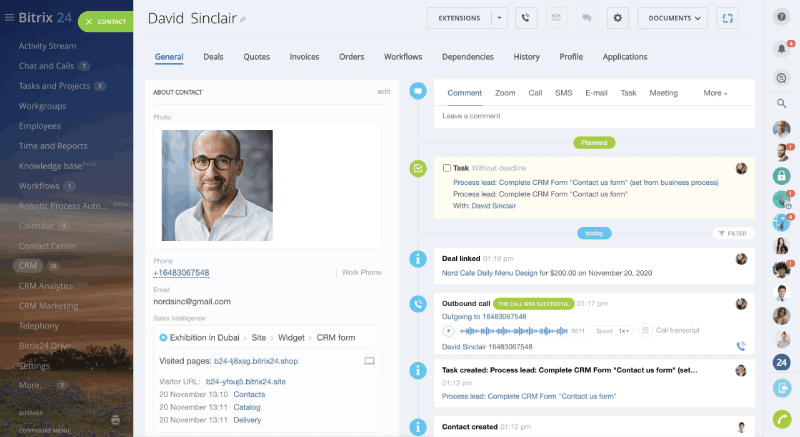 3. Zoho CRM: Wide Scope Software
One of the well-known names in the CRM landscape is Zoho CRM. You can start with the free version and use it up to 3 users. You then have access to functions such as: contact management, leads, deals and tasks. You can also send a number of emails per month from the free version of this CRM system.
4. Overflow
In 2015, the idea arose to offer a CRM tool as a Google Chrome extension. Later this solution (Prospect.io) grew into a full CRM and workspace solution called Overloop. In addition to the paid variants, they also offer a 100% free solution with sufficient functionality to get started with CRM for your company. An interesting option, partly because the free version is not limited by the number of users, deals or contacts.
5. Near-Free CRM software
In addition to HubSpot's free CRM software, there are also many tools available that are affordable. In some cases you can use a fairly rich CRM solution from the price of a Netflix subscription. Some of the CRM solutions to consider if you're going for affordable tools are these:
What can you expect from free or low-budget CRM software?
The free CRM software from HubSpot or the affordable CRM solutions usually offer useful basic functionalities. Most solutions offer features such as:
1. Capturing company cards and contact details.
This is one of the main basic functions of CRM software. Without contact details, you will not have access to the core strength of CRM (Customer Relationship Management). To what extent this is an advantage, differs per system. Are you able, for example, to indicate relationships in the database such as branches and head offices? Or do you have the option to record a lot of detailed information in the company and contact card?
2. Manage leads, deals or opportunities
Every system calls it differently but in general, the systems mean the same thing; build a pipeline of sales opportunities. In one CRM system you see deals, the other system talks about leads. Basically, it's about being able to record cases that could potentially lead to an order. Capturing, monitoring and reporting sales opportunities is one of the most important functions of CRM systems. You can often find these functions in free CRM systems and low-budget CRM systems.
3. Turn off actions
A third essential functionality is the scheduling of actions. This means; setting up tasks to follow up on certain accounts. You often see this task in free or affordable CRM software.
In addition to these functions, each package has its own unique selling point and additions.
Compare free and affordable CRM systems
When you make a choice for CRM software, it is important to think carefully about the desired functionality. Also look ahead; do you expect to grow quickly? Then the price is important for adding multiple users or working with larger databases. You can also grow in the need for CRM software functionalities. So always look at the packages that are even more available within the CRM provider you are considering.
This prevents you from being tempted with an attractive entry price and then paying the main price for a certain growth of your organization. Via our CRM comparison tool you can make a comparison yourself between different systems.
FAQ
What can you do with free CRM software?
With free CRM software you can usually automate the basics such as: capturing contact details and managing the pipeline.
Is a free CRM system for Outlook?
Most CRM systems have links with Outlook. You can also use Outlook as a CRM system. Then you are only talking about managing contacts and recording tasks.
Is Zoho CRM Free?
Like Bitrix24 and HubSpot CRM, Zoho CRM also offers a free version. For more functionality you have to pay a fee.